BONG Joon-Ho has always been one of my favourite filmmakers. Besides 'Parasite,' there is an array of other works to choose from – movies made by 'Director Bong,' as he is fondly referred to by his fans and colleagues. 'Okja,' for example is a story of a girl who goes on a wild adventure to save her genetically modified pig from an evil corporation. 'The Host' is about a group of people who team up to rescue a child who has been abducted by a river monster. 'Mother' is a drama about a woman who sets out to prove that her son has not committed a terrible crime, while 'Snowpiercer,' like 'Parasite,' presents a story about class, where, in a dystopian world, the lower class rebels against the upper class by attempting to overtake a train that circles that globe carrying all that is left of the world's population.
Based on his oeuvre, with its seriocomic flair, heavy topics, and the fact that Bong is a Korean director, working in the Korean language, it is surprising but absolutely wonderful, that he is now an Academy Award-winning director. Of course, his talent was always there, but the Academy has not been known to be kind to non-white artists, or to foreign talent. In fact, this year marks the first time in the 92-year-old history of the Academy Awards that a non-English-language film has won the Best Picture award. At the ceremony, Bong went on to win three other awards for 'Parasite,' Best Director, Best Original Screenplay, and Best International Feature Film, becoming the record-holder for the most wins for a single film. Clearly, 'Parasite' and Director Bong were both well received by the Academy Awards and a range of precursor award ceremonies. What was it that was able to make this international film so successful though? What was the thing that was able to escape the confines of language and culture to make the movie accessible to a range of audience members around the world? For me, it undoubtedly has to do with the fact that the film focuses on the hierarchical nature of class, the need to destabilise it, and the victims of this dismantling, as much as it has to do with the fact that 'Parasite' is an excellently made and extremely strong film, crafted by the most talented people soaring at the very height of their abilities.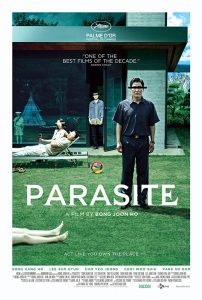 The film is about a very poor man who, along with his wife, son, and daughter, infiltrate their way into an upper-class family's home through counterfeit and fraud. The son of the poor family (Choi Woo-shik) takes up a job as a tutor in the house, thanks to certificates forged by his sister, and before long the rest of the family come trailing in. The daughter (Park So-dam) pretends to be an Art teacher, the father (Song Kang-ho) gains work as a chauffeur, and after the rich family's housekeeper (Lee Jung-eun) becomes indisposed due to the poor family's machinations, the mother (Jang Hye-jin) takes her job. Of course, the poor family must keep their relationship with each other a secret from their employers so that their fraudulent means of gaining employment are not found out. The rich family (led by Lee Sun-kyun and Cho Yeo-jeong), oblivious and incapable, remain unaware of what is going on in their house until an utterly shocking twist in the middle of the film threatens to reveal everything. After the twist, pure heart-pounding pandemonium takes over and chaos descends on all of the characters.
There is not enough time or space to go into the many, many, many merits of 'Parasite.' I could talk about how strong the cast is, about how refined their performances are, where despite the ambiguity of each character's morality, the audience still came away from the film rooting for them. It is a shame that none of the actors were nominated at the Oscars, because, in a fair world, they would have cleaned up and gained nominations in every single category. If I had to choose one performance to highlight, it would Lee Jung-eun as the housekeeper, in an uproarious, rollicking, physical performance that I am unable to see any other actor executing as well.
Bong, as a director, has an eye for stellar imagery. The 'peach scene,' for example, when the poor family gets rid of the housekeeper by exposing her to peaches (to which she is allergic) can be considered a work of art, and stand on its own as a short film separate from 'Parasite.' It is a wonderfully shot slow-motion montage presenting the actors engaged in careful blocking, showing what appears to be people going through everyday activities, while also layering information and plot through the scenes presented and the narration that is woven through the montage. It is tension-riddled and beautiful.
Bong Joon-ho is known for including both comedy and tragedy in his films. 'Parasite,' has both moments of extreme hilarity and moments of extreme darkness. There is a slow-motion fight scene, for example, where every member of the poor family wrestle over a cellphone. It is funny and also tense because the stakes at that moment are so high. Similarly, the shocking and bloody climax of the film is very gloomy and yet, still remains lighter than the actual end of the film. This inclusion of both hilarity and horror, while addressing the theme of class struggles, is an important addition to me because it showcases the humanity of the people involved in the situations presented in the film. It is a vital touch, one of many with which Bong imbues his film.
'Parasite' represents the best of world cinema and I am proud of all that this film has accomplished. It is a worthy winner of the Academy Award for Best Picture. Who knows when another worthy winner, one in the same league as 'Parasite,' may be found again. This movie deserves to be seen by everyone.