HORTICULTURE is considered the heart of humanity and for Phulmattie Budhram; it is a love and passion that she turned into a business.
The 40-year-old mother of four, who was born and raised at Agriculture Road, Mon Repos, East Coast Demerara, said while growing up, her parent's yard was large and she loved planting. She started with tomatoes.
"I always had this dream that I want to get more bigger and better in planting but it never crossed my mind about a plant shop. I just loved planting and caring for plants," she said, adding that "When I was younger, I always wished to have more plants to plant in my parent's yard."
Budram, who has three sisters and a brother, said at age 13, she went ahead and started her life. She settled with someone and that union produced her first daughter when she was 15.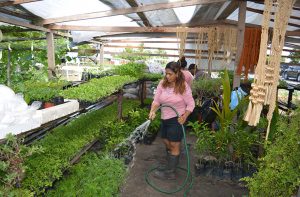 "But it did not work out and it was a learning experience and we eventually separated," she said.
She returned home to her parents with her daughter but soon after she got a proposal.
"Someone ask home for me, but I didn't want anybody, but my parents told me on this occasion this persons wants you and it's not the other way around."
She listened to them and the young man is still her husband.
"It was not easy and it was very painful because of my in-laws. It was so bad that I wanted to kill myself," she said sadly.
Pointing to the scars on her body, she said "at one time we had such a big problem that I could not have controlled myself and I just went ahead and threw kerosene on myself and lit a match."
Giving thanks to her husband who she said was very "good to me", the mother of four said the failed attempt at suicide opened her eyes to a greater meaning of life.
"My husband could have left me and gone, but no, he was there with me step by step, all four months in the hospital. Eventually when I come out he said look, let's start a new life separately from his parents," she said.
Her relationship had many challenges and she sought employment.
"But I always found a special love for planting, I never gave it up, and I eventually found a job as a domestic worker."
Over the years, Budhram said she did many jobs and even worked in the Fisheries Department at the Agriculture Ministry and later the LBI Estate. After that she managed to secure a job at the National Agricultural Research & Extension Institute (NAREI) and started off weeding in the shade house.
"I would also usually watch the NAREI officers do their planting and I would also volunteer. I made a good friend in the nursery department of the shade house and I explained how much I loved planting and she told me to meet their director and request to come over to the nursery and I eventually did so and got through because I explained myself to him," she said.
On the same day she made her request, she said at the lunch hour the human resource manager directed her to commence work in the shade house.
"When I was there, I started to do planting by the thousands, me and the other ladies, then my friend said look, we doing the budding and the grafting here, come over and learn. I said no, I don't think I can do that because of my hand and I only have eight fingers because of the burns," she reflected.
However, Budram was encouraged to participate and it was related that her hands are fully capable of doing the necessary work.
"So I began learning. I moved on from doing five plants to 10, from 10 to 15, then I later started to do a 160 plants in the nursery. But they learned to do it very fast because it was about 20 years now the ladies in the shaded house doing it," she said.
SLOW BUT PERFECT
She said because of her damaged hands the procedure of dealing with the plants was done slowly, but, perfectly done.
"So they started to get less results and I started to get more results. When they do get down to the bottom of why all my plants are kept alive and many of theirs die off, they found that because I took my time and wrap my plastic. It was tighter and the water could not have seeped in, which causes the bud stick to damage," she said.
She said after working for approximately four years at NAREI in the nursery, she was transferred to the laboratory for janitorial duties.
"I ended up working there in the lab for two years but I was not satisfied since my skills were not used. You can't take somebody with skills and give them a mop and a broom in their hands. It does not make any sense. Then I decided that I will do my own nurseries since they were not making use of my talent," the businesswoman said.
She said because of her love for planting and her failed attempt at suicide, there was always a love for sharing her talent and stories with youths to show them there are many opportunities available in life through the love of agriculture.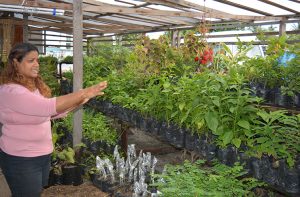 "I worked at NAREI for seven years but I put the skills in learned into practice. I said that if I did a business off of my own I will be able to earn by making my own nurseries to sell to others who don't find the time to go through the procedure until the plants are strong enough to grow by themselves," she said.
When she is among her plants, Budram said she has a new sense of life, joy, pleasure and wonder.
"When you see you plant a plant and you see it start to bear, you see the flowers, blossoms and fruits your life has a new meaning in nature," she said.
With support from persons she values dearly, she visited the Neighbourhood Democratic Council (NDC), put forward her idea and requested a plot of land to commence her operation.
"I don't know how to read and write much. I only went to nursery school, so I got assistance in writing the NDC and all other things because I was never ashamed to ask for help, because when I ask, I learn, because its only good things I am asking about," she said.
She credits a young man called "Vishan" whom she values as a son since he always freely assisted in writing all her letters and advising her accordingly.
Three weeks after her letter was dispatched; Budram said the NDC contacted her about a place for her shade house, which is her current location on the line top at the intersection of Agriculture Road, Mon Repos, East Coast Demerara.
DREAM COME THROUGH
"Before I started the business I had planted about 5,000 plants at home to bring to the nursery when it was finished building. This is a dream come through for me since I was small. I always wanted to just be amongst plants and to just plant," she reflected.
She continued: "Anything I tried to plant always grows; it's only if the seed is defective it won't grow. But I always get over 97 per cent success in my planting. My goal is to always have my nursery until this life parts with me."
Stressing that the nursery is not just for business, she said she also volunteers her time to teach her experiences to students interested in agriculture and planting.
She explained that grafting and budding are horticultural techniques used to join parts from two or more plants so that they appear to grow as a single plant. In grafting, the upper part of one plant grows on the root system (rootstock) of another plant. In the budding process, a bud is taken from one plant and grown on another.
"I usually show the children how to plant, how to mix the soil and all these things I learned at NAREI," she reflected, adding, "I am so lucky I was there to learn on these things to put them into practice. There are so many nurseries across the country but students cannot go into any of them and they would not want to share their talent, they keep it to themselves because of the business."
Adding that she is supportive of all students who are willing to learn, Budram is willing to assist students in understanding the blessings and bounties of horticulture.
At her business, the horticulturist has many fruit trees, flower trees, vegetables, a varieties of peppers, spices, coconuts trees and many others trees.
In her shade house, she employed her son and daughter who assists with the business because of her passion.
Adding that she received support in order to make the plant shop a success, she said "I used to work with Mr. Seudaywal Singh and i was working part time and somehow he saw how skillful i was with plants and he also was very passionate about plants, and he decided to assist and elevate me."
She continued: "He and I decide to work towards building a plant shop. He's such a very loving, caring hardworking and faithful business partner. Everything he touches or plants, grows, his touch is one of a kind. There are no words that can explain how he's such a wonderful business partner towards me and i want to thank him very much, i also want to thank god for sending him to me and god must always bless him and give him good health and strength to do the good work."
Meanwhile, Budram said she is passionate about suicide prevention, since she has had her own experience.
"I am always willing to talk about the effects of suicide and the options available and why persons should choose something very different. Because I want to let others know that it does not make any sense. There is a better way to do things. I can share with others the things that happened to me and the need to understand that life is a blessing," she said.
Reflecting on her grandfather's advice, she said life can be compared to the sea where the incoming waves are rough but the outgoing ones are always smooth.
"Life is filled with many experiences and life is designed to work itself out as long as you understand its blessings," she said.