– for 2020 Chutney Monarch participants
SOME 17 singers are set to contest this year's Mashramani Chutney Monarch Competition, with many promising that defending champion Steven Ramphal is going to have his work cut out for him, if he's looking for back-to-back titles.
This year's listing sees the return of all of last year's Top Four finishers; some other seasoned industry competitors and a few newcomers, including the controversial Mona of Berbice (real name Hemwattie Singh), who grew in popularity when a video of herself and sister being detained at the Rose Hall Police Station went viral last month.
The 17 singers will go head-to-head in the semi-finals on February 9 at the Skeldon Heritage Park, where only the top 10 competitors will make it into the finals, which, this year, is set for February 23 at the Better Hope Ground on the East Coast of Demerara.
Outside of that, citizens can expect their favourite singers making appearances at some of the various Mashramani pop-up concerts being held across the country, while rehearsals are scheduled for January 26 at the Seawall Bandstand.
Aside from Ramphal topping the 2020 list is two-time Chutney Monarch, Bunty Singh, real name Chait Mohanlall, and former Chutney Monarch Pooran Seeraj, both from Bath Settlement; and Arijit Singh.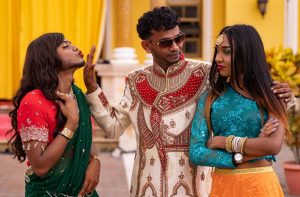 Ramphal's defending entry is "Jo Sangeet Main Gaata", another Hindi-English mix like his "Rang Ke Bhare Main Bhool Jao", which saw him to victory last year. Going up against Ramphal's song, is Bunty's "She Want Me Be She Raaja", while Seeraj's catchy "Roti and Dhal" has been heating up the airwaves, and Arjit is coming with "Sangeet Bhaaje".
The competitors are once again battling for the $1M first-place spot, and one year's bragging rights. As with last year's prizes, second-place finisher will take away $600,000, while third place will pocket $400,000, and fourth place will win $200,000.
"It's going to be a rough competition, but at the end of the day, it's not just about the competition; it's about promoting our Guyanese culture," said Ramphal, who has been performing in the competition since 2014.
Ramphal, who is also Guyana's 2019 Soca Monarch runner-up, is once again in that
competition this year, recently releasing the video for his song, "Be The Same", which he entered that competition with.
He's been an annual feature since then, rising to third place in 2018, before finally copping his first title last year.
The video for his 2020 song has already racked up 3,000-plus views on Youtube since its release, and Ramphal has been busy garnering interest for the single, including it in events he has been performing in over the past few weeks.
"It's a very inspirational song. The English meaning is 'Let The Music That I Sing Truly Unite us'," he said, adding: "It's a song promoting love, unity and harmony, and it's telling people that the music I sing is about love and unity."
Bunty's "She Want Me be She Raaja" tells the funny story of a faithful man rejecting the advances of a mischievous young lady, with his video release set for tomorrow.
"I am really confident about gaining a good space this year," Bunty said. "I go for first second or third, but win or lose, I still see myself as a winner, and see everyone as a winner. But I'm really confident of taking the crown this year," she said in closing.
Among this year's newcomers is 32-year-old Tony Cuttz, real name Remesh Brijnauth, who is entering the competition with a number called, "Neighbour Roti". Notwithstanding that it's his first year in the Chutney Monarch competition, Cuttz said he has been in the singing business some six years.
"I start singing in church, singing gospel. I play the piano as well. Living in Trinidad for 12 years, Chutney and Soca is a big deal there, so I decided to go out there, do different music such as Chutney and Soca. Then I move back to Guyana two years ago," he said.
Cuttz decided to try his hand at the competition after taking in the level of competition that was on display at last year's event. He thinks he has what it takes to take that crown, or at least put up a serious fight in the race.