'He became a great cricketer because he was a great human, Basil made me the man I am today' – Dr Vincent Adams
By Clifton Ross
THE pews at Christ Church were filled to capacity, just as the legendary batsman had filled seats during his playing days for Guyana and the West Indies, as Guyana paid their final respects to the late champion batsman, Basil Butcher.
Yesterday morning's service was mixed with emotions; notably joy and a bit of sadness. However, the sensations created the perfect atmosphere as an outpouring of heartfelt tributes from a number of Butcher's close relatives, friends and all those who at some point were impacted by the cricket great.
Among the notable attendees were Prime Minister (acting) Khemraj Ramjattan, Guyana Cricket Board (GCB) president Fizul Bacchus, former West Indies fast bowler Charlie Griffith, secretary Anand Sanasie, former national player Mark Harper, former Guyana and West Indies off-spinner and head selector Clyde Butts, and Cricket West Indies (CWI) chief selector Roger Harpers.
Dr Vincent Adams described Butcher as a legend on and off the field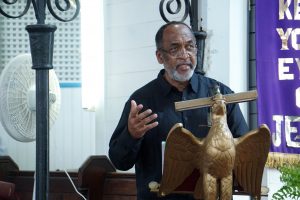 The feature address was delivered by former teammate and personal friend of Butcher, Director of the Environmental Protection Agency (EPA), Dr Adams who was the first player from Linden to represent Guyana at the first-class level and he credited his late friend for making him who he is today.
"Words don't do justice, Basil came into ny life when I was 14 and he made me the man I am. It was difficult but rewarding as I got time to reflect on the moments I spent on and off the field as he shaped my life and others around him," said Adams.
Adams recalled jovially one time when he had gotten out for 65 and, returning to the dressing room, was stopped by an incoming Butcher who told him that he does not think he wanted to make a hundred.
He said Butcher, whom he referred to as 'Skipper or Butch', then calmly suggested that since he did not know how to make a ton, he was going to show him how to get the job done. Then he did. The legendary batsman then proceeded to make a huge century, thus backing up his words.
"Basil was able to adjust to life and cricket, as he was also a philosopher. In the Guyana team at 18, my ambition was to play for West Indies but shortly after playing for Guyana, I got into a car accident and he told me to stop walking around moping. He then urged me to get an education, as it will never forsake you even after your cricket career is over".
"Basil then called the University of Guyana (UG) Chancellor and told him about me and how I was ready to start. The next day we went, I enrolled and the rest is history but that shows how everything he did transcended cricket,".Adams said
Sons recall father being a man of principle
Clairmont, one of Butcher's sons credited his father for being a good man off the cricket field. He urged those to embrace his father's morals which he lived by and to remain strong during this time.
Some laughter was introduced when another son Basil Jr, recalled how strict and stubborn Butcher was. He hailed his father for being a philosopher and always telling him 'How much you put in, you get out', adding that his father was a man of integrity and firmly against injustice.
Roland Butcher hails relative for being a great servant to cricket
Barbados-born ex-England, Middlesex and Tasmania batsman, Roland Butcherm said he was humbled to have been related to the cricket legend.
Roland, who played 3 Tests for England in the 80s, said he was a bit sad that he had not gotten close to Butcher when he was younger but was grateful for the bond they shared when he got older.
Roland added that he will carry on the Butcher Clan legacy and thanked Basil for his contributions to cricket. He was happy to be in Guyana to help celebrate the life of the man who he said was one of the greatest servants internationally, in the Caribbean, Guyana and West Indies.
CWI president Ricky Skerritt sends regards via Roger Harper
Harper first gave his own tribute then on the behalf of CWI president Skerritt, who was attending a meeting overseas. CWI was saddened by Butcher's passing and credited him for being the 'backbone' of a star-studded West Indies team back in the days when he played alongside the legendary Sir Garfield Sobers, Rohan Kanhai, the late Sir Conrad Hunte, and the late Sir Frank Worrell.
Harper said that it was the consistency of Butcher, who made timely contributions when the flamboyant players failed and was dubbed 'the glue of the team', delivering his best performances under pressure.
In closing, the CWI head selector extended sincerest condolences to the family, adding that Butcher lived life like how he played cricket.
"He was run-out and did not give his wicket away, so let's celebrate his time and life as we are extremely grateful because West Indies cricket is better because Basil Butcher played it," ended Harper.
Following the service, relatives and friends saw the casket of their fallen hero go through the symbolic bat arch to the hearse. The body was taken to the Good Hope Cremation Site on the East Coast Demerara for the final rites.