TREVOR Amsterdam, 36, on Tuesday pleaded not guilty for the murder of Jermaine Simon, who was gunned down at Bagotstown, East Bank Demerara in 2015.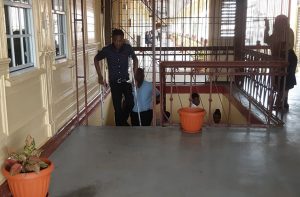 Amsterdam, formerly of Norton Street, Bagotstown, East Bank Demerara, appeared before Justice Sandil Kissoon at the Demerara High Court. He denied that on November 10, 2915, at Bagotstown, East Bank Demerara, he murdered Jermaine 'Lapsy' Simon.
According to reports, Simon was shot to the forehead by a man believed to be Amsterdam; he subsequently died while receiving treatment at the Georgetown Public Hospital. It was reported that the accused and Simon had a feud over a woman and other gang-related issues. Two days after Amsterdam allegedly killed Simon, his home went up in flames.
Police had issued a wanted bulletin for Simon in connection with the murder of 19-year-old Ryan Sooklall. Sooklall also known as 'Plyboard' was gunned down in a Providence, East Bank Demerara shop on March 1, 2015, by members of his own gang. He was shot in the back and was pronounced dead at the Diamond Diagnostic Centre.
The trial will continue today.