GUYANESE artiste Mark Batson, is at it again, making strides in his music career. The 35-year-old singer released a new video for his hit single, 'Gimme some space', just four days ago.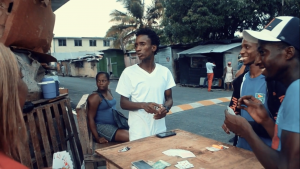 Shooting the video popular area, 'Tiger Bay', Batson said the whole idea of the video is to highlight everyday things that happen in society.
He said the song speaks about fake friends and 'bad mind' people, and seeking guidance from The Most High to be rid of those types of people from your life.
The song was extracted as a single from his last album, 'Music without Borders', and has been one of the favourites off the album.
Batson, who made his debut with his popular Soca song, 'Anaconda', went off the music scene for quite some time. However, he has returned under new management, Vizion Sounds Records, and has been doing amazing things.
Just last year, Batson was a buzzing sensation in the Jamaican press after he performed at 'Jamrock'. He was initially invited to perform at the Dennis Brown Tribute Concert at Waterfront Jamaica, but his impressive performance sparked other gigs in the 'Land of Wood and Water'.
He performed at the Jamaica Reggae Industry Association (JaRIA) Awards, alongside D'Burn. The two artistes performed a medley of Buju Banton's song, as the Award show this year paid homage to the formerly incarcerated Reggae icon.
Batson told 'The Buzz' that the performance at the awards was well received, and many Jamaican artistes in attendance, including the young sensation, 'Koffee', were all fascinated.
This exposure opened many more opportunities for the local superstar, who almost gave up on his singing career a few years ago.
He is currently working on some new material that will be released this year.