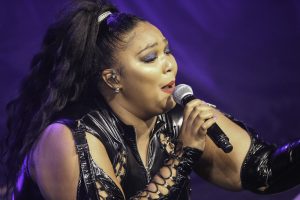 THIS article was inspired by a friend's WhatsApp status, which he posted as he was reflecting on the songs that he enjoyed over the past decade. I was going through his list when I realised that my choices would be markedly different from his choices, and I figured that the beginning of the new year would be a good time to look on all of the songs that emerged in the 2010-2019 period, for two main reasons. The first reason is simply because of nostalgia, which is the dominant feeling that emerges at the end of the year, as this list is being compiled, and the second reason is for comparative purposes. What kind of music will the new decade offer us? Will there be more mumblecore rappers? Will more people begin to appreciate movie soundtracks? Will Rihanna actually bless us with new music? There is a third reason to this list, if I'm being honest. It has to do with the fact that music not being my forte, is not something that I have written much about, despite this being a column about the arts. Therefore, to make up for the lack of music-related articles in this space, I present to you my playlist of the last decade, where I choose my favourite song, one from each of the 10 years that are most recently gone by. Here's to hoping that 2020 marks the beginning of a decade filled with new and beautiful music.
2010: "Rolling in the Deep" by Adele – Raw, soulful, and emotional, this song is one that conveyed its themes to me quite well, even though I had no idea what 'rolling in the deep' initially meant. I think I can even remember the first time I heard it too. It was on a Top 10 list on VH1, I think. I was 18-years-old in 2010.
2011: "I Am the Best" by 2NE1 – K-pop has been around for a while and 2NE1 is one of the first K-pop groups to which I was introduced. "I Am the Best" has everything that anyone can want in a K-pop song. There is fashion, choreography, vocals, rapping, stylised lighting, and crazy set-pieces. It is one of the most popular songs of this genre, and one of my personal favourites, especially because of the badassery conveyed by the ladies who form 2NE1.
2012: "One More Night" by Maroon 5 – There were other choices for this year, such as "Diamonds" by Rihanna, "Gangnam Style" by PSY, and "Somebody That I Used to Know" by Gotye, but I chose "One More Night" because this is my list and I still love this song up to now. It is sexy in a raunchy, cool, modern, kind of way.
2013: "Royals" by Lorde – Here was a teenager, a newcomer on the scene who was inspired by poetry and managed to comment on important issues without being extremely blatant about it. Symbolism, imagery, and mood are the dominant features of Lorde's music, and she's one of the few artistes who, I think, really gets it.
2014: "Chandelier" by Sia – At this point in the list, I am worried and surprised that my choices seem so run of the mill, as these are the same choices more than half of the young people in the world will choose anyway, but I cannot worry about that because these really are the songs that made the decade. For example, who can forget Sia's soaring vocals or Maddie Ziegler's dancing or the pure (after)party energy that this song spoke into our combined consciousness?
2015: "Lean On" by DJ Snake – This is one of the first songs that I can remember hearing that gave us that EDM/Electronic Pop sound that came to define a large subgenre of music in the 2010s. At the time, it seemed very modern, as all things related to technology usually do – but only time can tell how it stands up to scrutiny in the future.
2016: "Work" by Rihanna – Besides the sultry music video, this song is emblematic of Rihanna, who, undoubtedly, is one of the most iconic artistes ever. "Work" was catchy song, but more importantly, it also stirred up important conversations about the use of dialect and non-English languages within music, which is part of a wider conversation about race and post-colonialism.
2017: "Discovering Daniel/Pray" from the 'Once on This Island' Revival – This year gave us the Broadway revival of one of the only plays to be based in the Caribbean, 'Once on This Island.' My favourite song comes at a crucial moment in the musical, when our heroine, Ti Moune, challenges both the gods and her fellow peasants as she tries to save the life of the wealthy boy who has met with an accident outside the village. It is a tense pairing of songs, bursting with Caribbean rhythms.
2018: "Shallow" from the 'A Star is Born' Remake – Bradley Cooper and Lady Gaga paired up in this year to deliver not only an amazing film, but also one of the greatest love ballads ever. "Shallow" is for anyone who has been in love, and for anyone who wants to know what it is like to be in love.
2019: "Juice" by Lizzo – There is nothing better than a great song that is also about self-love. "Juice" is an anthem for everyone to learn to appreciate themselves. It's almost as if by just listening to Lizzo or watching her in the video, it becomes possible for one to experience a growth in self-esteem and self-worth, and that's why it is my favourite song of 2019. After all, everyone deserves to go into the new decade with a boost in self-confidence, with pride in who they are, loving every bit of themselves.