EVERY year, many Guyanese are killed or severely injured in motor vehicular accidents and evidence suggests the irresponsible driving is common among males.
This is the view of psychologist, Wil Campbell, in the aftermath of a deadly year on the country's roadways.
According to statistics from the Guyana Police Force, as of December, 31, 2019, some 108 accidents were recorded with 129 deaths compared to 105 accidents with 119 deaths the previous year.
Campbell said personality and behaviour have been well-cited as causes of many accidents involving male drivers as they drive more aggressively.
He explained that driving style refers to the way drivers habitually drive and this may include speeding, their attitudes to other road users and general attentiveness.
Driving style is influenced by the driver's personal beliefs and values, the psychologist said.
"The male hormone, testosterone promoted greater spatial awareness and visual acuity that is needed when driving. These are vital driving skills and theoretically, this should make men better drivers than women. But these are not the only factors that determine driver safety. The same hormone promotes aggression and this probably accounts for the fact that men tend to be more aggressive drivers than women," Campbell explained.
However, he said, everyone should use the roadways with care.
"Sentient humans have the ability to choose their behaviour in spite of natural inclinations. I haven't studied this formally but I have observed a general tendency among Guyanese and an exaggerated sense of invincibility; a belief that as an individual that I am better, smarter, stronger than other people. As a result, we tend to believe that we have the ability to escape the negative consequences of our actions because of our inherent capabilities; we believe that 'it could never happen to me'," he noted.
As such, he said many engage in risky driving, long after their teen years, although this kind of mental processing is typical of adolescents.
SOMETHING TO PROVE
Another problem, he said, is that Guyanese seem to always have something to prove.
"We're always competing, always trying to show that we're better, even on the roadways. We have to be ahead of the line of traffic, whether we're in a hurry or not. We seem almost incapable of yielding to another driver who would like to merge in traffic or wait a few seconds before pulling out into traffic."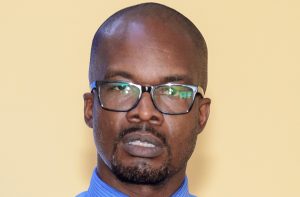 Further, Campbell said another factor is a seeming lack of patience on the roadways and a sense that waiting somehow diminishes one's value.
He also noted that individuals with driving anxiety are often unwilling to accept the risk that they may be involved in an accident and, ironically, their anxiety when driving may make them less safe on the road.
Common symptoms may include high anxiety when driving, high anxiety as a passenger, avoidance of driving completely and partial avoidance, such as driving only in one's local area.
Some of these perhaps played a role in the many accidents in 2019, many of which resulted in deaths as in the case of the accident on December, 18, 2019 at Fairfield, Mahaicony, Region Five.
Five persons lost their lives when a truck bearing registration GPP 9433 heading to Berbice collided with a route 50 minibus, bearing registration BRR 5478, which was heading to Georgetown.
Dead are Ewart Reynolds, 64, of Calcutta, Mahaicony; Alana Vaughn, 28, a medex of Farm, Mahaicony; Keon Sealey, 33, an anaesthesia nurse, also of Mahaicony; Maxwell Thom, 76; and Seechandal Chandilall, the driver of the bus. He lived at Bath Settlement, Berbice.
STRINGENT PENALTY
Rubina Taylor, the reputed wife of Ewart Reynolds, told the Guyana Chronicle that there is a need for more speed bumps on the roadways to force drivers to slow down while stricter penalties are needed for delinquent drivers.
"I don't even want to see a minibus driver because I lost my husband; the police need to do something with these lawless drivers. When they see the police they slow down, when they pass the police, is madness again," Taylor said.
A mother of six, Wallie Sealey, 63, who lost her 33-year-old son, Keon Sealey, said many things can be done to make the roads a safer place but the authorities need to ensure that everyone with a driver's licence is retested after being involved in any form of accident.
A relative of Alana Vaughn explained that the main risk factors for crashes in Guyana include excessive speeding, driving under the influence of alcohol, not using a seat belt and not wearing a motorcycle helmet, and not using child restraints.
"By making the right decision in each category, you could save your life and the lives of your passengers," he said.
Other relatives of the accident victims agreed that there is a need for all drivers of public transportation, including taxis, to have refresher courses when they apply for renewals of public transport licences.
In light of fatal crashes in 2019, President David Granger, last December, appealed to motorists to observe the Guyana Police Force's code of behaviour that is, drive with care, caution, consideration, common sense and courtesy.
"This insane increase in road fatalities has been caused, mainly, by persons driving at excessive speeds; driving under the influence of alcohol; driving without due care and attention (or inattentiveness) and driving on roads which are congested or unsafe for other road users, particularly pedestrians," the President stated.