A labourer, who was hired to construct a veranda, was stabbed to death on Sunday at the construction site at Logwood Squatting Area, Emnore, East Coast Demerara (ECD).
Dead is Balchan Baichan called 'Avai', 32, of lot 137, Logwood Enmore North ECD. The father of three was stabbed in the neck with a Barbecue Fork.
An autopsy, done on Friday, indicated that he died of multiple injuries.
Reports indicate that a 67-year-old fisherman known as 'Harrypaul' was on his verandah imbibing, when Balchan Baichan entered his yard.
He then asked him to leave and this resulted in an argument. The fisherman then armed himself with a Barbecue Fork and stabbed him (Baichan) in the neck.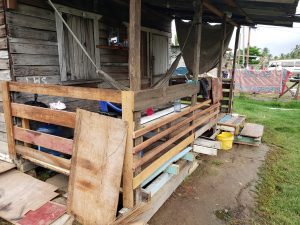 Balchan was taken to the Nabaclis Health Center where he was pronounced dead on arrival.
According to the father of the deceased, Rajpaul Baichan, his son was hired to construct a veranda at the fisherman's house, since the two were known to each other.
However, the father said that he was unaware of the reason behind the argument or the motive that led to murder.
Relatives of the dead man described him as a willing person who assisted many in the community, when called upon.
"He was a quiet-going person. He was stabbed while he was lighting a cigarette when he turned his back. At the time he was making a veranda and shed for the man's sister. He was working on the same veranda he was killed on," the father lamented.
The body was subsequently taken to the Jerrick's Funeral Home. The suspect is in custody assisting with the investigation.