By Michel Outridge 
WHO says regular folk cannot afford to buy brand-name and high-end products just like the people in upscale neighbourhoods? Well, this is possible at a store in Rosignol.
At Ayube Hamid's Furniture Store (Home Line Furnishings) located at Rosignol, West Bank Berbice, customers can afford to shop top-shelf products in relative ease.
One of the chain store owners, Fazeena Mobarakhali, told the Pepperpot Magazine that they have three branches located at Rose Hall, New Amsterdam, and Rosignol; the furniture factory is located at Canefield, East Canje, Berbice.
She related that at the Rosignol branch they have employed 10 persons from the community; their prices are simply unbeatable because they believe that everybody must afford to take home something of quality.
Mobarakhali explained that the business has been in the family for the past 32 years and before her father passed away, they used to be the local supplier of quality household furniture to mega-stores such as Courts, Fogarty's and Singers.
The mother of two related that at their furniture store they make furniture from scratch, using the best quality woods to make chairs, tables, vanities, dinette sets, beds, wardrobes, television stands; they also custom-make furniture based on orders.
She added that at their Rosignol branch like the other two stores, their prices are the best and cannot be matched with others; they provide warranties on their electrical products and everything in stock is within customers' reach.
"We don't have a high mark-up because we value our customers and we don't overcharge on our prices simply for all to be able to afford to take home something they always wanted to buy, but couldn't afford to," she said.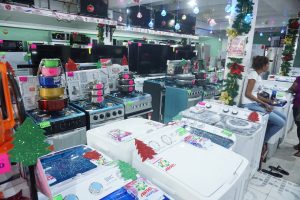 Mobarakhali disclosed that all their products are sourced both locally and overseas to ensure maximum quality; they have in stock only the top brands such as Samsung, Whirlpool, Frigidaire, General Electronics, and Panasonic, Black and Decker and other high-quality brands.
At Home Line Furnishings there are washing machines, blenders, gas stoves, steam irons, juice makers, music sets, smart televisions, cellphones and other electrical products.
She stated that the business is supervised by a manager when she is not around and even though she resides in New Amsterdam, she makes the journey almost every day to oversee the smooth operations of the store.
"In this store, we cater for all, no matter how much or little money you come here with; I can assure you can leave with something that is of good quality and a reliable brand name as well," she said.
Home Line Furnishings Store is opened from 08:00hrs to up until 19:00hrs and they are optimistic that business will flourish with the fast-approaching Christmas season; a time of year when people spend lavishly.
Mobarakhali told the Pepperpot Magazine that right now they have a daily promotion which started since December 1, to select a winner daily at the three branches. Every $5,000 spent earns the customer a coupon.
She explained that they have daily drawings at the three locations to select three winners every day and they take home some fantastic prizes and this is their way of giving back to society this Christmas.
Mobarakhali noted that the store is the official dealer in household appliances, furniture, electronics and other electrical gadgets such as cellphones, etc.