REIGNING British F4 Champion and Barbadian Zane Maloney reset the qualifying record for the Radical SR3 Caribbean Cup during the first of the two-day Clash of Champions race meet at the South Dakota Circuit..
The Barbadian produced a 32.748-second time to eclipse his uncle Mark Maloney's time set last year.
He will line up alongside Trinidad's Luke Bhola, with Guyana's Krisitan Jeffrey third on the grid.
Kristian Boodoosingh will start fourth on the grid ahead of championship leader and Jamaican William Myers.
On a rainy Saturday in Guyana, the SR3 was one of the few classes to run their qualifying on a dry track.
Elsewhere, Ahmed Esuf of Barbados will start group two on pole ahead of Shan Seejattan, Chet Singh and Trinidad's Aaron Achan.
A wet weather qualifying meant that drivers had to negotiate puddles of water with times truly not reflective of their pace.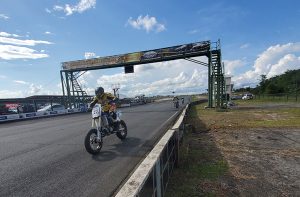 Group three will see Barbados Suleman Esuf start on pole ahead of Kevin Deodass, Keith Evelyn and Syed Hassan and Allan Da Silva.
In the Group Starlet Cup, Deodass, Hassan and Da Silva will start in that order.
For the group four, Barbadian Mark Maloney registered the fastest time of 36.585 seconds, ahead of Guyana's Andrew King and Christopher Lall and while Kristian Jeffrey did participate in that session, his transponder did not record a time.
His dashboard time, however, was registered at 35.15 and the clerk of the course will make a decision this morning as to whether they will accept the time or not.
In the Superbike event, Team Mohamed's Dan Lindfoot will start on pole ahead of his team mate Harry Truelove followed by Matthew Vieira and Nikhil Seereeram.
Richard Cooper, the other Team Mohamed's rider aboard the supersport bike, registered the second best time of the day, behind Lindfoot.
Meanwhile in the four races held yesterday, Narine Dasrat won the first Street Tuner event, Raymond Seebarran picked up the Sport Tuner win, Steven Vieira secured the 125cc class and Dwayne Caesar topped the Street Bike class.
More racing action is set to begin from 09:00hrs today with adults being charged $2 000 for entry and kids $1 000.