J.C Chandisingh Secondary School beat CCHS to lift title
THE Area 'H' Ground was filled to capacity on Wednesday last with school children as the Berbice Cricket Board/ Rose Hall Town Youth and Sports Club hosted the 6th edition of the Bakewell sponsored Naeem Nasir Memorial Cricket Tournament.
Six schools participated in the tournament- Berbice High School, Berbice Educational Institute, Lower Corentyne Secondary, Corentyne Comprehensive Secondary, J.C Chandisingh Secondary (JCCSS) and Port Mourant Secondary. The tournament was sponsored by Bakewell in memory of its founder and late Chief Executive Officer, Naeem Nasir.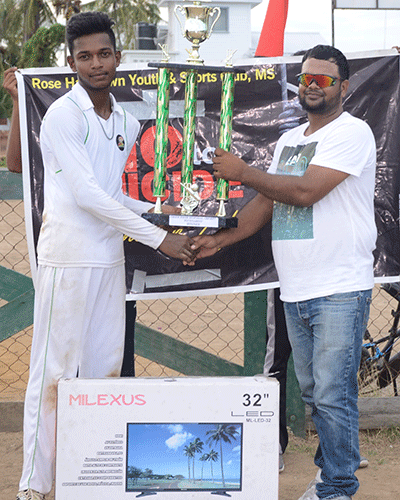 In the opening round of Matches- Port Mourant Secondary defeated Berbice Educational Institute by nine runs, J.C Chandisingh Secondary cruised past Berbice High School by 19 runs while Corentyne Comprehensive defeated Lower Corentyne by 18 runs.
Among the outstanding performers in the first round were Guyana junior players, Tameshwar Mohabir, Jonathan Rampersaud, Mahendra Gopilall and Abdool Ramsammy.
In the lone semi-finals, Port Mourant were bundled out by JCCSS for a disappointing 26 with the impressive Lucas Arthur taking four wickets for two runs, Christopher Deroop 2 for 5 and Pavendra Ganesh 2 for 2.
Jonathan Rampersaud then blasted a quick 20 not out to lead his team to the finals. Corentyne Comprehensive who drew a bye into the finals, won the toss and invited JCCSS to take first strike.
They lost Jonathan Rampersaud and Lucas Arthur early to Darren Brijjader but national junior cricketer Jeremy Sandia battled well to guide them to 70 for 7 from their allotted ten overs.
Sandia ended on 20 not out and received support from Surendra Ramcharitar 12. Kumar Deopersaud took 3 for 7 and Darren Brijadder2 for 16. In reply, needing to score 71 from 60 balls, Corentyne Comprehensive was well set to surpassethe target before Mahendra Gopilall ran himself out for 27. Needing to score nine runs in the final over, CCHS were only allowed to score three runs by leg- spinner Surendra Ramcharitar, to the delight of the large group of JCCSS supporters.
Hemendra Gurdyal supported Gopilall with seventeen runs but JCCSS bowled tightly to restrict the scoring rate. Ramcharitar ended with 2 for 4 while Lucas Arthur took 2 for 5 from two overs.
At the presentation ceremony, BCB president and RHTYSC Secretary/CEO Hilbert Foster hailed the two finalists for entertaining the large crowd with a high-quality match, that was a fitting tribute to the late Bakewell founder.
The tournament for the first five years was played with second division teams but the organisers this year, decided to use schools as part of an effort to develop talent for the future.
Foster as he always does at youth finals, urged the two teams to always say no to drugs, crime, alcohol, suicide, and tobacco. The veteran cricket administrator spoke widely on the importance of education and the need to work hard to achieve success.
He reminded the audience that the late Bakewell founder Naseem Nasir was a strong believer in the power of sports to keep youths away from the fast lane.
Bakewell since its opening has supported youth and sports development and is known for its sponsorship of cricket, football and long tennis.
JCCSS received the winning trophy and a 32-inch Television set while CCHS carried home the runner up trophy and a music/PA set. Third place PMSS collected a five-gallon water pitcher while Surendra Ramcharitar copped the Man of the Finals award.