MISS Earth Guyana 2019, Faydeha King is the talk of the town these days, having made history by being the first delegate from Guyana to ever place among the top 20 in an international beauty pageant in the last few years, much less Miss Earth.
Miss Earth 2019 was the 19th edition of the Miss Earth pageant, reputedly the World's Largest Environmental Event. It was held on Saturday at the prestigious Cove Manila seaside resort in the Philippines.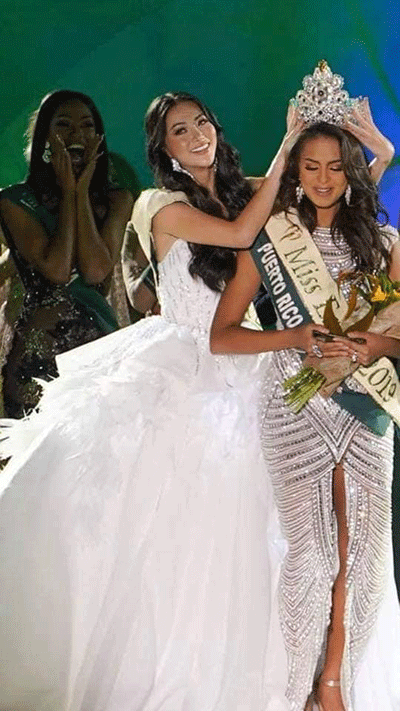 The culmination of almost a month of activities surrounding earth activities saw 85 delegates from all across the world, including Guyana, compete for the coveted title of Miss Earth 2019, a representation of their advocacy for the protection and preservation of our planet.
The competition was prejudged on the criteria of Figure and Form, Beauty of Face and Form (No Make-up Challenge) and Intelligence, from which the top 20 delegates would be selected.
The coronation event began with the introduction of the delegates in their radiant floral outfits, and after the introduction of the judges, the delegates came out once more in their swimwear. Among this line-up were those who would be Top 20, which the host announced would be judged for the Beauty of Face and Form for the afternoon's competition.
With nerve wracking tension, the names of the top 20 delegates were called in random order, beginning with Russia. In a matter of a few more countries, King was called.
The expression on her face said it all as her excitement and surprise was evident. Nevertheless, King took to showing why she was representing Guyana, and captured the audience's attention by confidently rocking her swimwear.
This marks the first time ever that Guyana has placed in a semi-finalist position at the Miss Earth competition since its start 19 years ago, and just two years after being under the directorship of local brand, Guyana Premier.
Since under new management, much improvement in the representation is evident. Last year, Xamiera Kippins won the local leg of the competition, and upon representing internationally, secured two medals, one for her national costume and the other for her talent piece.
This year, Guyana continued to shine on the international stage. Apart from placing in the Top 20, King captured the bronze medal for her Resort Wear, which was designed by local designer, Randy Madray.
She was also the roommate of Nellys Pimentel of Puerto Rico, who was crowned Miss Earth Queen. Many pageant pages captured Miss Guyana's reaction when her roommate was crowned, and lauded her for being a true pageant sister.
Miss Earth Guyana 2019 was powered by Guyana Premier, Demerara Bakery Inc., Nand Persaud Group of Companies, The Government of Guyana, Massy Store Guyana and Precise Printing.
The search for Miss Earth Guyana 2020 has begun. Persons interested in applying can do so via https://www.cognitoforms.com/MissEarthGuyana1/MissEarthGuyana2020.