– for murdering bed-ridden mother
HIGH Court Judge Jo-Ann Barlow, on Monday, October 07, 2019, sentenced a man to serve 21 years' imprisonment for killing his 76-year-old bed-ridden mother, three years ago, at their Good Faith, Mahaicony, East Coast Demerara home.
Terrence Madray, 56, called "Throw back" and 'Terry", was initially charged for murder, but he opted to plead guilty to the lesser count of manslaughter.
He pleaded guilty to the charge which read that, between April 18, 2016, and April 21, 2016, at Good Faith, Mahaicony, East Coast Demerara, he unlawfully killed Cecilia Madray, called "Susie".
The Guyana Chronicle understands that, on April 21, 2016, the elderly woman's bloodied body was discovered on a mattress covered with a mosquito net, and there was a gaping wound to the head.
A post-mortem examination performed on the remains of Madray, on Friday, revealed that she died from a fractured skull and brain haemorrhage due to blunt trauma to the head. Blood was oozing from the ear.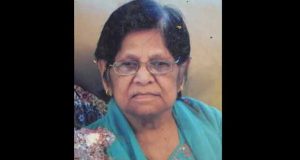 State Prosecutor Sarah Martin told the court that, on April 18, 2016, the Madray's home was visited by a person, who was a witness in the case.
The witness had told the police that while visiting the home Terrence was cursing his mother, who was bed-ridden due to being in an accident.
Terrence then went upstairs to his mother. Loud tramping was heard, followed by a groaning sound which came from the bed-ridden woman.
On April 21, 2016, the police at Mahaicony Police Station received an anonymous call from a person regarding what had happened to Cecilia Madray.
When the police arrived at the home they met Terrence who was sitting on the steps. When questioned about his mother's whereabouts he told the police "She okay, she sleeping."
Nevertheless, the police went into the house. Cecilia Madray was found motionless with blood in her ears. Terrence was arrested by the police and confessed to killing his mother.
Prosecutor Martin explained that Terrance had told the police he had bought a bottle of rum and some marijuana. He drank the rum and smoked the weed, thus becoming 'high.'
However, while being under the influence, Terrence said, his mother told him 'something' and he lashed her in the head with a piece of wood.
In what was described as a senseless killing by Terrence's attorney, Mark Conway, the counsel told the court that his client showed remorse.
Terrence in his statement had told police that, after hitting his mother, he tried to revive her; he also bathed her. He also attempted to feed the woman but she was unresponsive, which caused him to change her pampers and put her on a piece of cardboard.
The attorney stressed that his client cared for his bed-ridden mother for two years and was sorry for what he had done.
Additionally, Conway said that his client was attending church services and was also helping around the prison.
"I really love my mom" Terrence said as he explained that he was under the influence of alcohol when he killed his mother.
Justice Barlow said "drunk or sober you have to know what you are doing. Don't use drinking as an excuse for what you have done!"
Terrence Madray was sentenced to 21 years behind bars and was ordered to attend an anger management and substance abuse class which are offered to inmates.
His time spent on remand while awaiting trial will be deducted by the prison authorizes.