THE GCC Sequel (males) and Saints (females) were crowned champions of the Bounty Paper Towel Second Division Outdoor Development Hockey League, which concluded on Saturday evening at the St. Stanislaus College ground on Carifesta Avenue.
The Sequel won their last game to stamp their authority on the competition (5-0 against SHC Savages); while in the female division, Saints drew 0-0 with the GBTI-GCC Spice in their last clash.
Both winners had known their faith prior to the final day; the surprise was the spirited end of the Bounty GCC campaign after they won twice to snatch the second spot in the male league.
Bounty GCC, who were out of contention with just 14 points, were able to secure two victories in their last game to put them on par in terms of points with SHC Savages, but ahead in terms of goal difference.
They defeated SHC Savages 4-0 and previous third-place YMCA Old Fort Aces 11-0.
Meshach Sargeant was on fire for the winners, blasting in all the goals against the Savages and scored eight times against Old Fort Aces, which saw him passing previous leading goal-scorer, Philip Fernandes (15) for a tally of 23 goals.
According to the male division points table, Old Fort Aces finished fourth on 18 points, with SHC Shockwave and Hikers Cadets ended on 16 points each.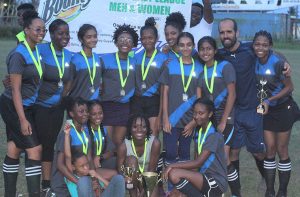 Seven teams competed in the male division.
Saints finished on 14 points with four wins and two draws in six games while the GBTI GCC Spice ended on 10 points with three wins, one draw and two defeats.
Bingo GCC Spartans ended on eight points and YMCA Old Fort Wild Cats on one.
Along with the championship trophy, The Sequel also had the Most Valuable Player in Dwayne Scott.
Bounty GCC's Michael Hing was declared the Best Goalkeeper, while Sargeant was rewarded for his scoring exploits.
Tekeisha De Leon was voted as the Most Valuable Player in the female division, while her Saints teammate Donyale Nurse was adjudged the Best Goalkeeper.
Meanwhile, the GCC Spice's Princessa Wilkie finished with 10 goals, the most goals in the female competition.