– as JAPEX opens amid ambitious plans to expand island's tourism sector
By Tajeram Mohabir in Jamaica
THE Jamaica Product Exchange (JAPEX) 2019 opened on a festive note on Monday before buyers and suppliers from around the world got down to business the following day.
The three-day expo, in its 29th year, showcases the island of Jamaica in all her glory and provides an opportunity for travel organisations around the world to network and do business, all under one roof.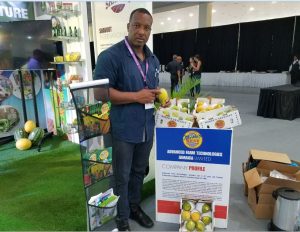 Addressing a gathering of entrepreneurs, senior government functionaries and local and international journalists at the Montego Bay Convention Centre, Jamaica Hotel and Tourist Association (JHTA) President, Omar Robinson described the event as a reunion of sorts.
"We come together to provide and receive updates, inform ourselves of trends and interests in our target markets, strengthen partnerships and develop new ones so critical to ensuring the success of this beautiful destination to which we are all committed," he said, while noting that Jamaica strives to provide a tourism product that is second to none.
The land of wood and water and home of the famous Blue Mountain Coffee has been able to maintain its place among the top tier of world destinations over several decades.
This achievement, Robinson said, is a tribute to Jamaica's overseas partners, who believe in Jamaica and keep sending their customers to the once-controlled British island.
JAPEX, this year, welcomes buyers from traditional markets, namely the US, Canada, and the UK as well as delegates from new markets such as India, Luxembourg, Mexico, Panama, Peru and Spain.
Tourism Minister, Edmund Bartlett was unavoidably absent from the opening on Monday but in his message to the Montego Bay Convention Centre gathering, he said the trade exposition is being held at a time when the tourism sector in Jamaica is experiencing a rejuvenation.
Tourism is Jamaica's second largest earner of foreign exchange and second largest employer of its human capital.
STRATEGIC MARKETING
Bartlett, in his message delivered by Industry, Commerce, Agriculture and Fisheries', Audley Shaw, said Jamaica is pushing to build a year-round sector through strategic marketing efforts, strategic investments and product diversification.
At the end of August, stop over visitors to the island paradise reached 1.87 million or 9.15 per cent increase over 2018, raking in revenues to the tune of US$2.39 billion.
"Overall, we are forecast to achieve 4.3 million visitors and earn US$3.67 billion or 10.9 per cent growth for the 2019 calendar year. The US, Canada and UK continue to be our major source markets. However, new airlift is supporting visitor growth and inroads into new and non-traditional markets," Minister Bartlett reported
He also announced that starting December, LATAM Airlines will commence service between Lima, Peru, and Montego Bay, three times weekly. These new flights will deepen Jamaica's penetration into South America through LATAM's gateway connectivity in Argentina, Chile and Brazil.
MORE FLIGHTS
These operations, the tourism minister said, will increase the number of flights out of South America to 14, with COPA Airlines currently operating 11 weekly flights between Panama and Jamaica.
"That is good news, especially as the South American market has shown the highest level of growth for this year, so far. In fact, our target is to grow this market by 29 per cent by year- end. Also, Russian airline Pegas Fly, which currently provides flights to Jamaica using 747 aircraft, will be utilising bigger jets, which will increase the number of passengers travelling to Montego Bay to 500 per trip. This will allow us to increase our reach into Continental and Eastern Europe," the tourism minister said in his message.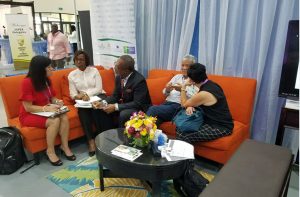 In addition, in December, there will be new daily direct flights by Delta Airlines out of Detroit and American Airlines from JFK, Bartlett told the gathering at the launch. The US is Jamaica main source market, providing 60 per cent of its visitors. An increase in direct flights will augur well for future growth of the Jamaica tourism industry.
Aside from showcasing new properties, attractions and services, Jamaica has also linked agriculture, manufacturing and other sectors to the tourism industry, creating a consistent, vibrant, world-class product.
JAPEX is held at a time when Hurricane Dorian has wreaked havoc in some parts of The Bahamas, another inland paradise in the Region.
Since Dorian visited The Bahamas, Jamaica, through Minister Bartlett, has been at the forefront of efforts to mobilise global support for the recovery efforts through the United Nations World Tourism Organisation and the Global Tourism Resilience and Crisis Management Centre based at the University of the West Indies.
The Jamaica Hotel and Tourist Association has also committed US$20,000 to help safeguard the health and welfare of residents of The Bahamas as well as the rebuilding of the country in the shortest possible time.