THE concept of 'alternative history fiction' is an interesting one for writers due to the fact that it presents both an opportunity for the imagination to run free and also a challenge in the ways we must rein in the imagination before we are faced with a lawsuit or some other kind negative response that can be a hindrance to the writer and his/her writing career.
Alternative history refers to a retelling or a version of a segment of history where known historical events occur in different ways. So, a theoretical example of a work of alternative history could be a stage-play that envisions a Guyana where Burnham and Jagan stay friends and come together to rid the country of racism. A real example of a work that uses alternative history is Philip K. Dick's "The Man in the High Castle" (adapted into a TV show of the same name by Amazon Studios) where, in the world of the novel, World War II ends differently and Imperial Japan and Nazi Germany are in control of the United States of America.
Another example of this type of fiction – though one where the change in history is much smaller than the outcome of World War II – is the novel, "Leading Men" by Christopher Castellani. This particular novel tells the story of the great American playwright, Tennessee Williams and his lover, Frank Merlo, as they holiday in Italy, detailing the ups and downs of their relationship, the impact they had on each other, and the tragic end to their love story.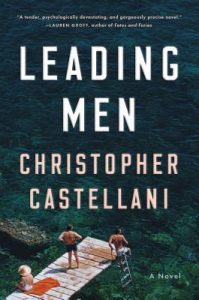 Castellani's book is rooted in many facts, as the writer conducted a lot of research in order to ensure the authenticity of his central relationship. His major addition to the life of Williams in his novel, and the element that makes the work alternative history, is the creation of the character of Anja Bloom – a fictional actress who subsequent to her meeting with Williams and Merlo in the novel becomes a movie star and a central figure that is used to demonstrate the depth and true nature of the relationship between the two men.
Castellani came up with the idea for this particular character during his research when he stumbled across a letter that Truman Capote (another figure from real life, author of "In Cold Blood) wrote to a friend while staying at the same place that Williams and Merlo were at during the beginning of the novel. A part of the letter (dated 23 June 1953) tells of the presence of a certain unknown girl: "There is…a Swedish mother and daughter who share a fisherman between them…" and thus, the character of Anja Bloom was born.
The intersection of the fictional Anja Bloom and the very real Tennessee Williams, Frank Merlo, and even Truman Capote is a blending of reality and fiction that makes "Leading Men" an ideal case study for the literary style that has come to be regarded as alternative history fiction.
The book begins in the summer of 1953 with Tennessee Williams at the very prime of his career. The playwright and tall, strapping Frank Merlo are enjoying their holiday in Italy. One night, they attend a party with Truman Capote and it is here that they all come across the shy but beautiful, Anja, and her mother. Eventually, Anja, Williams, and Merlo become very close friends as they travel around Italy, enjoying the food and the architecture and the atmosphere, and Williams takes it upon himself to assist both Anja and Merlo in becoming actors. Anja becomes a massive star, while Merlo finds that his health and his relationship with Williams are beginning to fade away.
The brilliance of Castellani's writing comes to the fore when, at various points throughout the text, one remembers that Anja Bloom, despite the writer's careful crafting of her character from sweet, teenage protégé trying to escape her mother into old, fading meteor of an actress who is running from different demons, does not exist and has never existed. The skill with which Castellani is able to track her development throughout the novel is truly impressive. He imbues this character with the potency of a rising starlet, giving her a confidence and carefree nature that reminds the reader of several young movie stars, and yet, Anja is not a version of the stereotypical 'cool girl.' She is level-headed and intelligent, sharp and focused, and brimming untapped emotions, especially concerning the principal male figures in her life: Merlo, Williams, and her father. By the end of the novel, you will end up googling her name, just to see if you had misread this article and that there really existed a beautiful blonde Swede by the name of Anja Bloom who was a companion of Tennessee Williams and Frank Merlo, who became a star in the Golden Age of Hollywood, and now lives out her days in retirement and isolation.
On the flip side, it is sometimes difficult to remember that Williams and Merlo were actually real people, especially with the otherworldly sense of beauty and nuance that Castellani imbues their relationship with, making them star-crossed and as iconic, as unreachable, as firmly fixed in the element of fiction – except that they actually are not fictional – in much the same way that Romeo and Juliet or Tristan and Isolde exist in our minds and our literature. There is depth and beauty and heartache with the two men. Williams and Merlo cruise the streets of Rome for young men that they share together, that they use against each other. They love each other hard and, sometimes, abandon each other in times of need. They do not say 'I love you' to one another and yet, it is there, in every touch, every whispered word, every time they come together in public, the electricity between them crackling continuously, until the end, until the ultimate tragedy consumes them and their tempestuous relationship, until nothing but regrets are left – and then, at the end of the book, in the last line, you remember and you ask yourself how you could have forgotten that all this time, you were reading a love story, and like all good love stories, this one too ends tragically.
I suppose Castellani could have written a fictional novel about Anja Bloom, and then a separate novel about Williams and Merlo. If he had done that, then neither of those hypothetical novels would have been anywhere as strong as "Leading Men." The two tales are intertwined, yes, but they also complement and impact each other, so that there would have been no Tennessee Williams without Frank Merlo and no Anja Bloom without either of the two and that is the final and most important line on how "Leading Men" lets us know that alternative history fiction matters – and that it is an important element in modern literature.