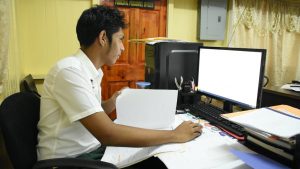 President David Granger holds the view that students must be prepared for the world of work. As Guyana's economy continues to grow at a rapid pace, this can prove daunting for recent secondary school graduates with little or no practical experience. The Government of Guyana has been helping combat youth unemployment through the Ministry of Education's Work-Study Programme, a five-week internship for fifth form students.
This is a special edition of Government in Action co-produced by the Public Information and Press Service's (PIPS) Public Relations Intern, Ms. Shania Madramuthu of The Bishop's High School.
From high school to the Office of the President
Shania has been a most valued addition to PIPS and, for the past six weeks, has been able to gain real public relations experience as part of our team. Here, Shania shares her own exciting and challenging work-study experience.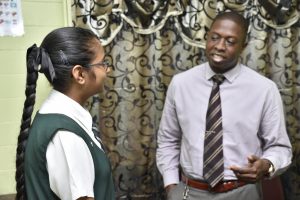 "On this job, I had to keep up with current affairs, which is something I never did much of before. I read the newspaper every morning, every day, and I had to keep up with the Ministers and Heads of Departments and their activities… When I first came here, I went with other Communication Officers on their assignments, where they had to cover Ministers and Department [heads]… Eventually, I got to [cover] my own assignments. When I came back to office, I had to write up the press release, and pick pictures for the [papers]," she said.
Shania said that she was able to explore new skills and build on existing ones.
"I dabbled in some photography. I had to learn the basics of it because I never did it before… I got to do photography for an assignment and my pictures were picked for the [papers]. That was exciting. I also learned how to conduct interviews, professionally and learned to speak to people I've never met before [to get] the information I need from the interviewee," she said.
Recalling an impromptu interview that she conducted with President Granger, Shania said that she learned to adapt to PIPS' fast-paced environment.
"When I got my first interview, it was with the President. It was sprung on me, I went over to just observe the interview, but then I ended up doing it, which was nerve-wracking. I also interviewed the First Lady… My picture actually got picked for the front page of the Chronicle newspaper, for the interview with the President, that was also exciting," she said.
Building relationships with fellow staff members, she said, was one of the highlights of her internship.
"The staff here was very welcoming, they taught me what I needed to know, whenever I had questions, they were willing to answer and they made sure to look out for me on assignments, especially on [the] out of town [assignments]. Whenever something big happened, like when I interviewed the President or when the picture got on the front page of the newspaper, they were genuinely happy for me and genuinely excited for me," she said.
Pointing youth in the right direction
It is important that students become both educated and skilled and are regularly given the chance to combine theory and practicum. This is part of the President's vision for youth in Guyana.
District Education Officer, Mr. Sherwyn Blackman said the Work-Study Programme does just that. Mr. Blackman, a former work-study intern himself, said that the programme can even point unsure students in the direction of their future careers.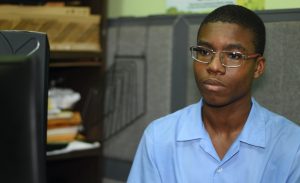 "Work-study is basically an opportunity for our students, who have just completed the CSEC examinations, to be afforded an opportunity to go to organisations where they have a sense of what happens in that environment, whichever organisation it is, but also an opportunity for them to pick up best practices on the job… Having this experience, it really provides that true opportunity for them to study [and] understand if that's really the career path that they want to pick up… It provides them with the kind of skills that even [if] they might be going to further their studies after it still gives them that kind of jumpstart to life," he said.
Mr. Blackman added that the programme has proven beneficial for both the students and the institutions in which they intern.
"I think that's one of the biggest celebrations we can have in terms of being on the programme, [the interns] have the opportunity to interact with persons… at the workplace. In some cases, the organisation… might be where they have to have face to face contact with persons so it develops their skills in terms of communication… It really helps them to mature… [Being] in an environment where you're socialising with adults you actually have an opportunity to truly be able to move to that next level," he said.
Mr. Blackman urged students to make the best of their work-study experience and encouraged rising fifth-formers to apply for work-study when the time comes.
"Persons being on work-study also bring a lot to the table because talking with some of the students, you recognise that they're actually able to contribute their skills to improving whichever section or organisation they have worked at so I think, holistically, it has a benefit for both sides… I would want to encourage them to ensure that they are, of course, there punctually but also to ensure that they learn as much as they can, they take the opportunity to really write the right resume… [They] can actually go back to these organisations and get a recommendation for the job, especially, of course, [when] you have done that excellent job. I encourage them also to ensure that they are very honest, hard-working… and ask as many questions as they can because the idea is to truly understand the organisation while they're there, regardless of whichever section they're placed," he said.
A word from the interns
Mr. Blackman encouraged students to take advantage of the programme's very simple application process to earn a place at one of 40 Government and Private Sector institutions for their internship.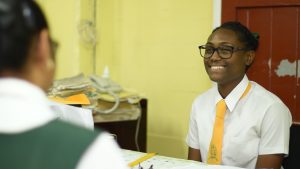 We spoke to a few of this year's students who shared their experiences and journeys of hands-on work in their respective organisations. They gave us direct insight into how they have benefitted from the work-study programme.
Stephen Hussain, St. Mary's High School, Personnel Management Intern, Supreme Court: I chose to apply for work-study so that I would get the experience of working in an organisation so that it would be easier on me to adapt [to the working world].
Jaheim Griffith, Central High School, Management of Information Systems Intern, Ministry of Education: I have always loved working behind computers since I was young. Everything I did always surrounded technology so when I was given the opportunity to do work-study that allowed me to be behind a computer, I took that up right away.
Shuntia Lee, South Ruimveldt Secondary, Personnel Management Intern, Ministry of Education: I chose to apply for work-study because maybe it will give me… experience of what I'm about to go into which is the world of work.
The interns explained that the programme is not one where participants aren't put to work, but rather, they were able to learn real skills in a professional environment.
Jaheim: When I first came to work-study and they told me that I would be helping to manage the Ministry of Education website, that it would be a constant chore, something that when you do it every day, it would be something different every day and from my imagination I thought that it would have a lot of programming, a lot of script and code… But after actually coming into the workplace, doing it, I realised that… it was a schedule.
Shuntia: Working along with persons, in this Department you have an officer you have to work along with in order for them to teach you how the work is being done so, I've learned how to work along with other persons.
Stephen: I gained enough knowledge on how the court operates… I've learnt how to deal with people. I've learnt how to file mail; I've learnt how to dispatch mail properly; I've learnt how to use the index… I've learnt about filing punctuality reports on courts within Guyana of each district… I've also had the opportunity to go to the Public Service Commissions, the Lusignan Prison, GRA and even NIS.
The Work-Study Programme helps students break out of their shells, gaining confidence, professionalism as well as knowledge that would help them in their future endeavours.
Jaheim: In terms of how I work, my schedule, what I have to do on a daily basis, I do believe that it is teaching me how to be on time, how to get my work done, how to be vigilant in doing the same thing every day.
Shuntia: It has helped me to prepare myself for the working world by being mature, and how to relate to others and how you should be able to work and to put myself in an adult's position [and]; how to be a better person and to [pursue] your goals and not to fall back on them.
Stephen: It is a very beneficial experience because I've learnt a lot.
Although some students were assigned positions outside of their ideal career choice, they continued to encourage other students to apply for the programme as the benefits far outweigh the disappointments.
Jaheim: For anybody that would like to do this as well, I would say that you shouldn't overthink it. It is something that you learn through time and progress and there are always people who are there that are willing to teach you the ropes as you go along.
Shuntia: All I would say is, it's a great experience, it's a great programme for you to come into and be a part of because it's a very good experience; it teaches you a lot, especially as a teenager… For me, it has been a great experience, and maybe for others, it will be a great experience…I would encourage them to be a part of the programme.
Stephen: I think students should apply for work-study so that they would gain the experience so that it would be easier on them when they're actually employed.
Shania: For those students on the second batch, I would advise that you be open-minded, don't be afraid to ask questions because there will always be people willing to answer you and make the best out of these five weeks because you never know where it could take you.
The Work-Study Programme is just one of the initiatives that the Government has implemented to pursue its vision of an educated and skilled populace. The Government of Guyana through the Ministry of Education continues to ensure that young people are given every opportunity to become contributors to Guyana's economy.