AFTER rave reviews and a sold-out show in Linden, "Mommy Baby, Daddy Maybe", the satirical tale of a baby's disputed paternity, is coming to the National Cultural Centre here in the city this weekend as in in tomorrow and Sunday.
The comedy stars Lois Moseley, as the pregnant protagonist, 'Joanna', a waitress who is unsure whether the father of her baby is her womanizer boyfriend, "Ray Ray", played by Randy Gonsalves; or if the "Baby Daddy" is the charming "Tyrone", played by Randy Johnson.
Joanna's cantankerous grandmother is none other than Guyana's famous big-butt, loud-mouth "Granny Ivelaw", played by the ever-popular Ivelaw Campbell, the actor. According to the storyline, 'Granny Ivelaw' has just returned from overseas and taken over the situation. And with 'Granny Ivelaw' in de tek-ups, we know there's sure to be some big laughs in this one.
"This hilarious satire," a statement from the producer says, "is beautifully handled by Lois Moseley. She is wedged between Randy Johnson and Randy Gonsalves, two multi-talented young men, while into the melee is thrown a cantankerous grandmother overcome by her self-righteousness as she turns everything on its head. Granny Ivelaw plays her iconic character to the hilt."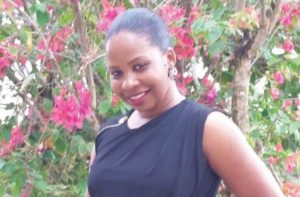 The play has an overall cast of some 16 comedians, and promises to be filled with "over-the-top comedy beyond the fullest".
The play is written and directed by Michael James, and produced in collaboration with Godfrey Naughton. James explains that the play addresses a number of issues other than paternity dipute, with a number of sub-plots.
These sub-plots include an undersized, egotistic pimp with a fake accent, and a preacher who can't attract anybody to his church, and becomes progressively more desperate in his laughable quest to fill dem pews.
"The genesis behind the storyline originated from social issues that we face, and one of the issues that we face is the challenge where you have men minding children that are not theirs or are not taking responsibility for children that are theirs. So it surrounds that," James says.
In the play, he says, both 'Ray Ray' and 'Tyrone' are eager to be the father of Joanna's baby, while 'Granny Ivelaw' favourite hobby horse is that the baby is Ray Ray's if it's ugly, and Tyrone's if it's good looking when it is born. She's very supportive of Joanna, and wants the best for her, notwithstanding her smart mouth and quick wit.
Tickets for the play cost is $2000, $1500 and $1000, and are available at Andrews Supermarket, Nigel's Supermarket and NCC Box Office.