–to imbue 'body positivity' in other young women like herself
"THE body is but a mere molecular structure that contains who we are."
You could say that that single sentence underlies the 'Body Positive' movement of 23-year-old Gabriella Chapman.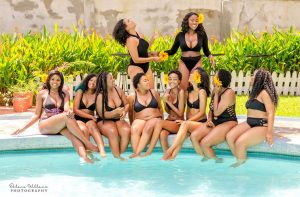 Just recently, 'Gabby' turned some heads in the local Online community when she dropped what some would call 'fire' photos. At first glance, 10 young girls clad in their swimsuits would be enough to capture the average person's attention for a second, or even third look. But the message underpinning these photos is what really held the attention, as these photos were intended to promote body positivity, regardless of shape, size or colour.
"My whole body-positivity focus started when I first started out in pageants," Gabriella said. "One of the things that I feared about pageantry was the swimsuit segment, because I wasn't comfortable with my body."
Back when she started out in the pageantry world, Gabby said, she endured a lot of body shaming. She knew that this was something that so many other young girls faced as well. And while she would have learnt to overcome the negativity thrown her way, she came to realise that she could use her own lived experiences to empower others.
"Now I want to use my platform to show that you shouldn't be deemed as less deserving of something because of your exterior," Gabby explained.
And her platform is multi-tiered. On her own, Gabby created a Girl's Group, which is known as the Girl Build Girl Foundation. Here, she strives to empower young girls and, well… have them build each other up. In other words, you could say she's a pageant veteran who's tried to leave her mark on few local pageants, and is now seeking to make her mark in the 2020 Miss World Guyana pageant.
Now, the photoshoot sought to integrate both of these things.
"It was a photoshoot to promote body positivity, which is also part of my 'Beauty With a Purpose' project for the Miss World Guyana 2020 pageant," Gabby explained.
SPEAKS TO CONFIDENCE
For her, empowerment comes in many forms, and as part of her project, she wanted to advance the body-positive movement. Now, naturally, the swimsuit aspect of the shoot might make you think of it as another 'sexy shoot', but for Gabby, the swimsuit speaks to confidence in your body.
She noted, "Being able to showcase yourself in a swimsuit speaks to comfort in your body, and I thought that was the best way I could portray that message."
This focus on body positivity is only a smaller part of her wider empowerment project, however. The young woman also intends to 'up the ante' by fostering a social media campaign, where other young girls can share their own body-positivity stories for others to read and perhaps develop a common sense of solace as they strive to accept themselves.
Additionally, Gabriella aims to work with the young girls in her girl's group, since she has found that there are dozens of young girls struggling with their body image. It is her intention to host sessions with those young girls to cultivate that sense of self-acceptance and love in themselves.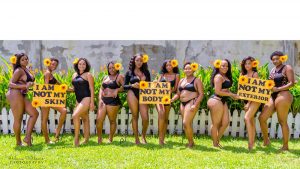 This is going to be part of her series of empowerment movements, and to keep up with these, or even to join hands with her, you can follow her on social media: Gabriella (her Facebook page) and at gabriellaismyname_(her Instagram handle).
"I know we can't change society, but I'm trying to have persons change the way we let society affect us, and, hopefully, in the process, society could also feel the need to stop the body-shaming and the bashing," Chapman said.