NEWLY appointed Regional Health Officer of the West Demerara Health Services, Dr. Cerdel Mc Watt, is heartened at the work of the regional health system within Essequibo Islands-West Demerara Region. And noting its current level of competence, he feels confident that it is poised for greater things to come.
In a recent interview with the Pepperpot Magazine, Dr. Mc Watt commented: "In Region Three we have a [health care] system that is very dynamic. It is a Region with great potential, and if we have the capacity to deal with our health care issues and the needs of all the populace who live here or seek health care services within the Region, then we are in good standing."
Dr. Mc Watt observed that already, the health care system is working assiduously to build the necessary capacity at all centres, as its distribution has extended to 18 Outposts; 20 Health Centres; two District Hospitals; One Cottage Hospital and one Regional Hospital. This, he said, is geared to provide health care services from level one to level four, since the programme generally stems from Programme and Sub-Programme and is divided into 19 activities.
Being at the helm of the organisation and having made an assessment of the structure over the past four months, Dr. Mc Watt while giving kudos for the positives, has come up with a blueprint for dealing with the challenges inherent within the system.
The Challenges: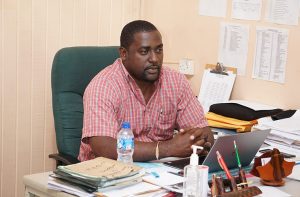 Having highlighted some of the positives, Dr. Mc Watt, in the interest of identifying and nipping challenges in the bud, said that every system has its appropriate challenges- some can be easily controlled, others cannot. Invariably, challenges are human resource or finance related, but one of the major challenges he's encountered has to do with a bottom-heavy structure at the expense of the limited availability of resources at the top. And since there is only so much that a person can do, in time it can lead to 'burn out' which does not augur well for the person nor the organisation. This can also lead to the problem of oversight and so forth at the top level, given some constraint in terms of the information being filtered down.
Customer Service
Dr. Mc Watt observed that Customer Service, in terms of how staff interact with the general public needs some improvement. He stated that some staff might be trying their level best, to offer service and make patients feel comfortable, that they are cared for and that there is hope for them.
When caregivers are caring and compassionate to the patients, most clients, by the time they would have made contact with the health care worker, and based on their perception and the type of caregiving they would have received, 25 percent of their burdens can be lifted without receiving treatment." Dr. Mc Watt reasoned.
The RHO said that while not all staff are culpable, it has been found that some who are guilty of failing to be caring and compassionate, may be behaving in an uncomplimentary fashion because of work overload. He noted that the staff members are trying but issues such as overwork and social ills may be added stresses for them.
While admitting that customer service can be a problem at times, the RHO said that programmes are in place for the requisite training to be given to all health care workers so there can be improvement in that area.
Health and Nutrition
Meanwhile, explained that nutrition also goes a far way for patients. "The first thing we look at is diet…So the major thing that I am looking at is information concerning health and wellness and individuals need to understand that it not only has to deal with having clinical attention. And also those illicit habits of smoking and alcohol use and so forth, likewise the other illicit drugs do much harm," he said.
He added that the West Demerara Regional Hospital's promotion is geared as health promotion activities. To this end, they collaborate with other entities promoting health such as the last Ministry of Public Health Fair which and participated every day until the final day. One of the things focused on was Rehabilitation services, and water and what is observed within the region in terms of rehabilitation. The Hospital also looked at the Maternal and Child Health aspect of health care; family medicine, internal medicine, dental health, pharmacy and environmental health departmental health.
"We try to instill in people's minds that it is not just the clinical services that are offered, but we offer a package and we insist that this would become part of our regime so that we can improve," Dr. Mc Watt concluded.
Meanwhile, to coincide the observation of Father's Day the administration of West Demerara Hospital staged a special programme for male staff of the institution, as a timely reminder of their role as fathers and their commitment to the family in that capacity.
In a stirring presentation to the gathering, Dr. Mc Watt told those assembled that, "Your fathers are not only biological fathers but all who they interface with. That can be your workmates or the clients you visit from time to time."
He admonished them to extend the same love and kindness to all those with whom they come into contact, especially their extended families, including workmates, reminding them that they cannot only foster children but team spirit and team effort, basically moving the health care services within the Region forward.