THE resignation of four ministers of government created an opportunity for President David Granger to do a reassessment of the administration, said former Minister of Business, Dominic Gaskin.
April last, President Granger accepted resignation letters from Vice-President and Foreign Affairs Minister, Carl Greenidge; Minister of State, Joseph Harmon; Minister of Public Service, Dr. Rupert Roopnaraine; and Minister of Business, Dominic Gaskin.
The ministers tendered their resignations in keeping with the indications of High Court and Court of Appeal that it is unconstitutional for a person who swore allegiance, obedience or adherence to a foreign power or state to be a Member of Parliament.
Those ministers have since been reassigned to other positions within their respective ministries.
"I believe the resignation of ministers created an opportunity for reassessment and he (the president) did some moving around," said Gaskin, as he defended his appointment as Director of Manufacturing and Marketing within the Ministry of Business.
The former minister said the President identified areas of deficiencies before appointing him and the other ministers to different posts. "For instance, marketing needed more attention and that was recognised," Gaskin contended during an Alliance For Change (AFC) press briefing on Friday at the Centre for Change.
According to him, there is much to be done in the areas manufacturing and marketing, and under his stewardship, he will raise the bar.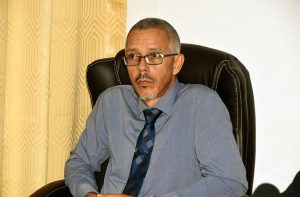 In addition, Gaskin said the reassigning of the ministers was not done to circumvent the ruling of the court, but to meet the outstanding demands of the various sectors.
Quizzed about his technical abilities to be in the position he now holds, Gaskin admitted that he does not have university qualifications but said he has over 40 years of experience in the manufacturing sector.
Minister of Public Telecommunications and Executive Member of the AFC, Catherine Hughes, also defended the appointment of the former ministers, noting that it is a reflection of a high level of maturity when persons accept that it was necessary to retain the experienced officials.
Hughes said Greenidge is a prime example of the available skills, adding that the former minister has knowledge and experience in the border dispute case between Guyana and Venezuela.
"Are we as a nation going to question and fuss about individuals delivering on our territorial integrity?" she asked.
Hughes said the court ruled that dual citizens cannot sit in Parliament but, it states nothing about them being employed by the government.