AFTER a resounding success last November, attracting thousands of Guyana's youths, the Block Party has returned as the kick- start of the Guyana Carnival activities. The party goes down this evening on Main Street, between the Cenotaph and Quamina Street.
Organiser of the event, 'Drew Thoven' says the party is expected to be bigger and better than last year, with many more attractions. Incorporating the event with Guyana Carnival, he said, will allow for greater success.
He said that the support from last year encouraged him to return with the concept to target Guyana's youths.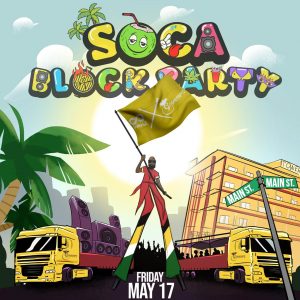 "Looking back at the footage and photos of last year, what is most heartwarming for me is the fact that the millennial crowd I wanted to come, came and had a great time. They celebrated life with family and friends, and for hours, forgot every stress in the world; every condemnation; every negative thought and memory and just lived. The turnout made me realise my potential, not just as a music producer, but as a public figure, and my social media potential. Because, for that event I just used my social media and Hits and Jams radio to promote," Drew said.
It is for that reason, the young organiser said him and the Guyana Carnival committee want to give the youths that experience again.
"Now to start Carnival, we want to bring the same elements of the Block Party and combine them with some very lost traditional elements of our culture; being the stilt walkers, the fire breathers, percussions section and the masquerade. Those elements, we will be putting a modern twist and incorporate it… The main attraction is that everything is on a truck, which gives you a flash forward to Carnival parade day," He told 'The Buzz Magazine'.
Since it is tailored for young people, the ticket cost is very affordable. Tickets can be bought at Hits and Jams Office Box for $1000, or persons can pay $2000 at the gate.
The Guyana Police Force, Integrated Security Services, and Prime Security, will be at the venue to provide tight security to ensure the safety of the patrons.
Drew said he is very confident about security, not just for this event but for the entire carnival, because these policemen would have joined forces with other companies, and promised to ensure that patrons are safe.