FIRST Lady, Sandra Granger has called for Information and Communication Technology (ICT), including robotics, to become a primary area of focus in the hinterland regions of Guyana.
On Saturday, the First Lady addressed participants of two workshops which were conducted in Regions Eight (Potaro-Siparuni) and Nine (Upper Takutu-Upper Essequibo).
"We do not want our technology to be learnt only on the coastland; we want our Hinterland students, our rural children and young people to understand and be ready for the world of work in the 21st Century… If you're doing agriculture, if you're in any field, you are going to need skills in robotics," the First Lady said.
According to a release from the Ministry of the Presidency (MoTP), the workshops, which were hosted at the Bina Hill Institute and the Kurupukari Primary School in Regions Nine and Eight respectively, were aimed at introducing ICT to the 91 participants in attendance.
The First Lady, in partnership with STEM Guyana, the Iwokrama International Centre for Rainforest Conservation and Development (Iwokrama) and ExxonMobil, hosted a STEM Robotics workshop for 50 Kurupukari Primary School pupils. At the end of the workshop, Mrs Granger presented two Robotics kits to the school so as to further pique the children's interest in the subject.
Meanwhile, at the Bina Hill Institute, 41 students graduated from the ICT workshop, which was held in collaboration with the Ministry of Social Protection's Board of Industrial Training (BIT).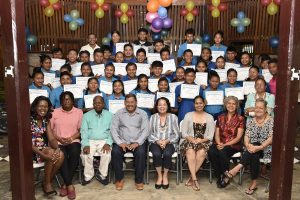 In his address at the graduation ceremony, Vice-President and Minister of Indigenous Peoples' Affairs, Sydney Allicock said he was impressed with the progress made by the students, and encouraged them to continue to pursue learning opportunities in ICT.
"What is happening here is an irreversible movement, and you have to be dedicated. Commit yourselves! You have the opportunity; let us work together! The Ministry will continue to support you," the minister was quoted as charging the 41 graduands.
Iwokrama's Director for Resource Management and Training, Dr. Raquel Thomas-Caesar also encouraged the graduates from both sessions to think about how technology can be used in a practical way in their daily lives.
"It's really about how we merge these wonderful new skills that you are gaining; especially the technological skills. With the traditional skills to help preserve, conserve and maintain, a lot of the elements of your heritage that are very important, you can use Robotics and the scratch programme that you learned about to actually apply it to real life situations… Think about how can you make a robot to help your mommy and daddy fetch the cassava from the farm," she said.
The graduates all expressed gratitude to the First Lady and her partners for bringing the workshop to their areas. Importantly, the Office of the First Lady has said that plans are also in train to conduct similar sessions at Mabaruma, in Region One (Barima-Waini), and at Mahdia, in Region Eight.