…lawyers maintain Constitution bars crossing the floor
…reiterate Charrandass has no constituency
…was put in Parliament because electors voted for APNU+AFC
By Svetlana Marshall in Port of Spain
Attorneys representing the Government and Opposition clashed in the Caribbean Court of Justice (CCJ) in a legal battle of words on whether a Member of Parliament can vote against his list, as oral arguments in the consolidated appeals on the No-Confidence Motion wrapped up on Friday.
Senior Counsel Neil Boston, in what could be described as a very spirited presentation, told the Trinidad-based CCJ that Guyana's Constitution was amended to prohibit Members of Parliament from voting against their lists after an agreement was struck in 2005 by then President Bharrat Jagdeo and Leader of the Opposition Robert Corbin as he shot down the notion that Charrandass Persaud could have easily voted against his Government without making a declaration, as stipulated by the Constitution. In December 2018, Charrandass Persaud voted in favour of an Opposition-sponsored motion to bring down his Government in the National Assembly. Compton Reid, a farmer from Berbice, is asking the court to invalidate Persaud's vote.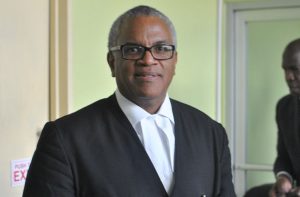 On Friday, Boston was the first of six attorneys to make oral submissions before a panel of five judges, led by CCJ President Justice Adrian Saunders, during Day Two of the hearing of the three consolidated appeals to the Court of Appeal's decision to strike out a Vote of No-Confidence against the A Partnership for National Unity + Alliance for Change (APNU+AFC) Government on the basis that the Parliamentary Opposition, the People's Progressive Party, did not acquire an absolute majority when the motion was put to a vote last December.
In his submission, the Senior Counsel explained that after Independence in 1966, there was a trend of Members of Parliament crossing the floor, but the situation went downhill in 2005 when then PPP Parliamentarian, Khemraj Ramjattan spoke out against his list, and, though expelled from the party, refused to resign from Parliament. Ramjattan then sat as an independent member. Though they opposed each other, Jagdeo and Corbin, according to Boston, agreed that there was no place for defectors in the National Assembly, and as a result included Article 156 (3) in the Constitution. Notably, Corbin is one of the attorneys working alongside Boston in this case, and was present in court.
To bolster his argument, Boston turned the Court's attention to the Representation of People Act, which makes provision for the election of Members of the National Assembly under a system of Proportional Representation. That Act, he submitted, allows for persons to be extracted from a List of Representatives, following General and Regional Elections, to be elected to the National Assembly based on the number of seats a party acquires.
Charrandass Persaud, one of the appellants in the cases, was extracted from the APNU+AFC List of Representatives for Geographical District Region Six. The Senior Counsel was keen on pointing out that Charrandass Persaud did not occupy a seat in the National Assembly because the electorates voted for him, but because they voted for the APNU+AFC. His loyalty in the House, therefore, should be to the List from which he was extracted, Boston argued.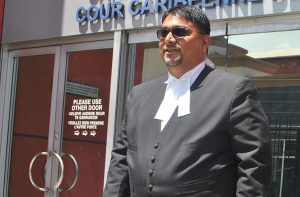 "Mr. Charrandass has no constituency; he was is put there as a front for the APNU+AFC, and he has to carry out the mandate of the party," Boston submitted. Questioned by Justice David Hayton to show the Court where in the Constitution it is said that a Member of Parliament must vote for the list from which he was extracted, Boston admitted that there is no such provision, but he invited the court to consider the spirit and intent of Article 156 (3) of the Constitution. That Article mandates that a member who no longer wishes to support his list to inform the Speaker of the National Assembly, or the Leader of the List in writing. Contending that a declaration in writing is critical.
Boston told the judges, "If this is the spirit and intention of Article 156 (3) that you can't vote against your list without sending a letter to the List Representative, or the Speaker of the National Assembly, then the Court is duty-bound to give effect to that spirit of the Constitution."
NO-CONFIDENCE VOTE
Justice Winston Anderson, another judge on the panel, while lauding Boston for his clear and precise arguments, asked him how he would reconcile his position with Article 106 (6), which suggests that Cabinet and Government could fall following a defeat on a Vote of Confidence. The National Assembly, the Senior Counsel said, would have to deal with the "conflict" between Article 106 (6) and Article 156 (3). "But we are presented with it now, and we have to interpret the Constitution now. And it seems to me, Article 106 (6) is suggesting that the Government could fall on a vote of Confidence," Justice Anderson reasoned, while asking Boston whether or not he accepted that line of reasoning.
"Of course I accept that," Boston replied.
Whereupon Justice Anderson further questioned, "How could a Government fall on a vote of No-Confidence, if no one crosses the floor, and nobody can vote against their list?" Boston, in response, opined that while hastening to frustrate the process, Jagdeo and Corbin may not have thoroughly considered Article 106 (6).
At this, Justice Saunders asked, "Is voting therefore a formality in Parliament?" Though grilled on his position by the panel of judges, Boston did not buckle under pressure, and with every question, was a quick response. "It is one thing to say that if you vote against your list, that is an act of disloyalty which triggers consequences, but it is a different thing to say that a vote against your list is void because it was an act of disloyalty. It is two separate things," the CCJ President told Boston.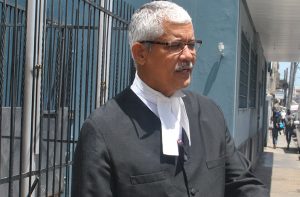 Adding her voice to the discussion, Justice Maureen Rajnauth-Lee told Boston that the Court and parties involved must make sense of both Article 156 (3) and Article 106 (6). "Could it be that when it comes to the vote of confidence, or a motion of no-confidence, however it is looked at, that that is when the Constitution allows you to vote on a motion of confidence? It must make sense," Justice Rajnauth Lee reasoned, while Justice Jacob Wit invited Boston to read the Constitution as a whole, emphasising that the provisions must make sense.
Adopting the submissions made by Senior Counsel Eamon Courtenay the day prior, Boston told the Court that only the Government could move a Motion of Confidence. He submitted that once it is found that the motion is intended to bring down the Government, it would never see the light of day, because the Member would be recalled. He maintained that Charrandass Persaud cannot simply wake up one morning and decide that he will vote against his list, without notifying the Speaker or Leader of the List in writing.
While emphasising that it is unconstitutional, Boston called on the court to sanction Charrandass Persaud. But Justice Saunders reasoned that while the act may have been disloyal, it is possible that it was not unconstitutional, dubbing the issue at hand as a philosophical one.
Trinidad Attorney-at-Law, Douglas Mendes, who is representing Opposition Leader Bharrat Jagdeo, rejected Boston's contention that once a member votes against his list, his vote is automatically invalidated. Mendes, in his rebuttal, told the Court the contention is absurd.
He questioned if the votes of Members of the Opposition would have been deemed invalid, had they decided to vote in favour of a National Budget, though it was not a party position. Mendes also told the Court that it is quite possible for a member to have a change of heart after listening to debates in the House, and because of those arguments, vote against his list.
"My learned friends are asking this court to imply into the Constitution a provision that has far-reaching consequences. If it was the intention of the framers of the Constitution to have a provision that has that drastic effect, I would have expected that they would have put it expressedly, and not leave it to the court to read it into the Constitution," Mendes said, while asking the Court to reject Boston's position.
Charrandass Persaud's Attorney Sanjeev Datadin had put forward similar arguments. He contended that the act of voting against one's list could very well be spontaneous, and that as such, they may not have been sufficient time to make a written declaration to the Speaker of the List Representative.
LIVING IN A MYTHICAL LAND
Belizean Senior Counsel, Eamon Courtenay told the court that Mendes and Datadin are living in a "mythical land". He invited the court to be realistic.
"Your honours, we are speaking about a country; we are speaking about a Constitution; we are speaking about political parties. We are speaking about a Constitution on how it operates in a system where parties put forward lists. People vote for lists, and I repeat, if you choose to put your name on that list, you subject yourself to the system, and the system says you must support your list," Courtenay told the court. He said members are free to resign or leave, but they must declare that they no longer support the list from which they were extracted. He, however, noted that while it is okay to disagree, that disagreement among members of a party takes place in caucus, and not in the National Assembly. He submitted that Article 156 (3) is an anti-defection provision.
Attorney-at-Law Robert Corbin, adding his voice to the issue, submitted to the court that there is a difference in supporting a list and supporting a measure. He explained that members, because of religious beliefs or otherwise, may not support a measure, however, they are required to support the list from which they were extracted if a Motion of Confidence, or No-Confidence is presented to the House.