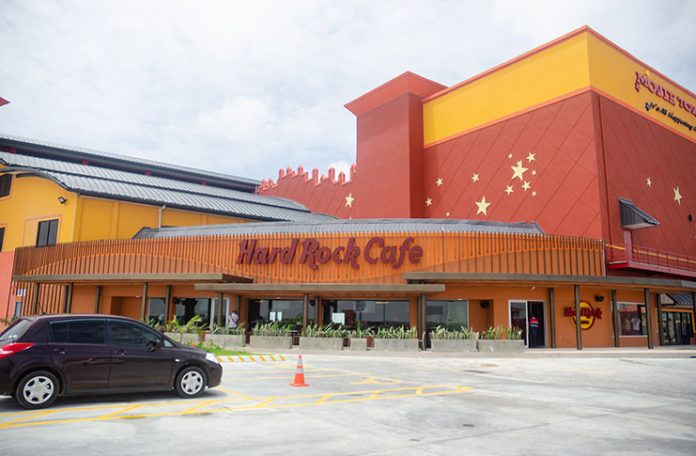 THE world class brand, Hard Rock Café, has officially opened their Guyana venue at Movie Towne, on Friday.
At the small opening ceremony, Vice-President of Hard Rock, Americas and the Caribbean, Tom Perez, said that this is the 76th country in which they have opened a branch.
"Guyana is the 76th country, but we have 185 venues and we are very proud to actually be here in Guyana. We saw potential in Guyana so we thought that now is the moment," Perez said.
Perez said that they brought in an international team of people, who spent over a month, and employed and trained 75 persons from Georgetown.
Apart from providing jobs, he noted that one of the biggest highlights of the Café, is the stage with equipment for live band performances.
"We will be playing live music, and bringing bands to Guyana to perform. In addition, this will be another stage for Guyanese bands to come out to the world, performing at the Hard Rock Café. And hopefully, continue the great tradition of bands that started their careers on Hard Rock stages. There are many bands that started their careers at Hard Rock, and every year we do international battle of bands. And so Guyana will be part of that, and hopefully somebody from here wins," he said.
It must be noted, he added, that many persons have the misconception that only hard rock music is played at Hard Rock Café. That is not true, he said. "We play music of all genres, from all decades, as I like to say – we cater for people from diaper to diaper," Perez said.
In addition to the opportunity for bands, he pointed out that at the venue, there is a Hard Rock Café store, with branded clothing and other souvenir items with 'Hard Rock Café Guyana' printed or carved on them.
This, Perez said, will help take Guyana to other places.
"We bring Hard Rock to Guyana, but what is interesting, you actually take Guyana out of the country, to the world. And this is the vehicle. From now on, everyone who comes here and buys a t-shirt, they will walk around with one that says Hard Rock Guyana. And this is the most popular well known t-shirt in the world. People wear this badge of honour, to show that they have travelled somewhere," he said.
In explaining the architectural arrangement, Perez said that many of the designs are significant to Guyana, or symbolise something Guyanese.
He said that before coming up with a design, they did a lot of research on Guyana so that they can build a venue that is unique to the country.
"We hired a team of architects that looked into the country. These piping dropping down the stage represents the Kaieteur falls, the splashes of green around represent the forest, our logo is constantly changing to different colours and if you notice, those colours are from the flag… So we tried to use colours and flavours of Guyana, to incorporate the country," Perez said.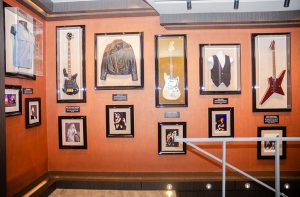 The walls of the Café are covered with memorabilia from renowned artistes such as Michael Jackson, Rihanna, Katy Perry, Prince and Elvis Presley, just to name a few.
The grand opening for the Café will be in a few months with an international band, celebrities, and politicians, and will be a big, private, Oscars-type event. Perez pointed out that "this is just the soft opening because we want the staff to exercise, and get used to working here. And when they're 100 per cent we will do the grand opening."