EUREKA Lab, in celebrating its 24th Anniversary in the business, launched a new Polymerase Chain Reaction (PCR) system which will test for Cervical Cancer and infectious diseases.
The new system takes small amounts of Deoxyribonucleic Acid (DNA) and amplifies it for testing. "We had many challenges getting it up and running but we have finally done it," said representative of Eureka Lab, Tiffany Roberts, during her remarks at the celebration of the company's anniversary and the launch of the new service on Friday.
Molbio's Truelab Micro PCR system is a nucleic acid amplification platform that works on real-time PCR technology to enable near-patient diagnosis through disposable disease-specific micro PCR chips and portable, automated Truelab real-time micro PCR analyser.
Testing for infectious diseases by detecting the pathogens nucleic acids using nucleic acid amplification methods is a highly-specific and sensitive diagnostic tool.
The PCR process necessitates the extraction and purification of nucleic acids from clinical specimens to free it from potential PCR inhibitors.
Such advance technology has been hard to acquire by low and middle income countries but, Eureka has "broken the barriers" and will now offer those services at an affordable cost, said Roberts. "We can give patients results in four hours…it can give you a definitive diagnosis early, possibly before the spread of an infection," she explained.
Roberts said the system in its initial stage will be used for testing patients for Chlamydia, Gonorrhoea and Cervical Cancer.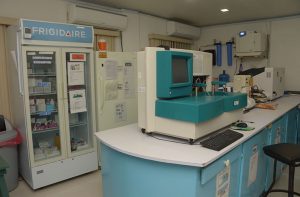 Testing will not be limited to those infections, she said, adding that in the near future the system will be used to test for other infections like herpes and so forth.
Minister of Public Health, Volda Lawrence, in a speech which was read by Director of Eureka Lab, Dr. Karen Gordon-Boyle, said the new system will improve the efficiency of local testing and by extension, improve the services offered. The minister also congratulated the company for achieving another milestone and also celebrating 24 years in the business.
Dr. Gordon-Boyle, in her own remarks, said starting Eureka was an uphill challenge for Chief Executive Officer (CEO) of Eureka Lab, Andrew Boyle and herself. The director explained that the business was founded in a three-room apartment in Waterloo Street.
The company has since grown over the years and now has branches in Regions Two, Three, Four, Seven and 10. "We want it to stand for quality, efficiency, timeliness and accuracy," said Dr. Gordon-Boyle, adding that the company is a true representation of that vision.
In addition to offering walk-in services, Eureka Lab now offers homecare, allowing persons to get assistance from the comfort of their homes. "We want a flawless enterprise and we would not be able to achieve this without our hard-working staff," said the company's CEO.
Andrew echoed the sentiments of Gordon-Boyle, adding that the company will strive to offer a service that is second to none.