…City mayor, PSC execs find in Regent St walkabout
A large contingent from the Mayor and City Council (M&CC) and the Private Sector Commission (PSC), on Tuesday, paid random visits to businesses in Georgetown to ascertain whether they were adhering to proper garbage disposal measures.
The visit, led by Georgetown Mayor, Ubraj Narine; Town Clerk (ag) Sharon Harry; PSC Chairman Desmond Sears and PSC Executive, Captain Gerry Gouveia, took place along Regent Street and its intersecting streets.
The team of officials showed up impromptu at serval businesses which gave explanations regarding their garbage disposal habits while the team also noted garbage pile up in drains and alleyways.
Stopping near a large pile of garbage on the roadside of the Regent and Alexander Street intersection, the contingent received the explanation from the adjacent business owner that the items were not all his.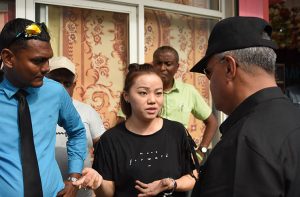 He said that it was a compilation of others who sought to place their garbage on the roadside and is also a result of his bins which had begun to overflow due to inconsistent garbage collection methods.
The point was raised that while the Council seeks to rectify financial and logistic issues, businesses must take up greater responsibility.
It was stated that, in unfortunate situations, rather than choosing littering and roadside discarding of garbage, businesses can pay a small fee to private companies to have their garbage disposed of.
However, it was acknowledged that the corrective measures ought not to be placed solely only on shoulders of the M&CC. "Citizens have to help; the private sector has to help; the businesses on Regent Street and all across the city have to help," he stated.
"We, as the Private Sector, we need to reach out to our members and plead with them to help [the M&CC]."
Gouveia pointed out that some of the remarks received from businesses related to the inconsistency of the garbage collection system of the M&CC.
In response, Town Clerk (ag) Sharon Harry stated that the challenges were partly related to the Council's financial situation, but it will be working to ensure that it played its role, consistently, for a clean city in return.
"We do have financial challenges at the Council and we do have some amount of logistics [challenges]. That is why we would have reached out to the Private Sector Commission so that we can work collaboratively to have some methodology in place to have the garbage picked up and to ensure we maintain a clean city," she explained.
Meanwhile, the PSC Chairman agreed that collaboration is necessary to rectify the situation but he also spoke to the need for a re-valuation of properties in the area as some businesses have increased the floor levels of their buildings but are still paying the initial taxes.
Just recently, the M&CC had announced that over 140 business proprietors in Georgetown owed taxes and that was causing a strain on the City Council to finance services such as garbage collection.
Brainstorming along the walkabout, the team agreed that an arrangement can be developed for businesses to periodically produce a "garbage strategy" which would outline how they intend to manage their waste.
Agreeing that such a strategy is needed was Deputy Mayor, Alfred Mentore who stated that a policy should be created which would bar businesses from receiving their license if such a "garbage strategy" was non-compliant with the Council's standards.
The stakeholders also agreed that the language barrier for Chinese businesses was still a challenge which will see the team reaching out to the Chinese Ambassador for assistance.
"We will present the challenge to him," Gouveia said. "We have a lot of Chinese in the city doing business that don't even speak English and so when we try to talk to them about garbage disposal and collection we're having a difficulty communicating with them."
Strategising
Meanwhile, the Mayor committed that members of the Council will be meeting with businesses in the area "block by block" to strategise a way forward. "We don't want to send pressure on the business sector or the businesses, but we will see if we can work block by block so that they can come together and give us something [financial] for the pickup up of garbage," he said.
He added that the Private Sector Commission has given its full commitment to working along with the Council to keep businesses in line which he believes represents the active leadership which is needed.
"I will not sit down in the Mayor's chair and shield my Administration. The Engineer Department needs to come out more and be able to give reports on these things and we must get the place clean. I will be on their shoulders and I know Madam Town Clerk, as well, will not pressure but will send little memos so that things can happen very fast in the city. We do not need to sit in office and be there in a chair, we need to come out and listen to the people and work for the people of the city," Narine said.
Wrapping up the engagement, Gouveia indicated the need for other bodies like the Georgetown Chamber of Commerce & Industry (GCCI) to come on board as many businesses, visited on Tuesday, are members of the GCCI.
He suggested that through widened collaboration, a town hall meeting can be hosted with businesses to inform them of their legal duties. Gouveia said that it must be noted that some of the businesses visited demonstrated good garbage disposal strategies and are examples for other businesses in err to take note of.