EVEN as Chief Education Officer Marcel Hutson has indicated that the 2019 National Grade Six Assessment (NGSA) test papers are already in the country, many teachers and pupils are conducting the last phase of preparation before the big days.
"We're all set and ready to go. The children would have received their timetables; the papers are in the country and we're all set to execute the examination in the education districts in Guyana from Regions one right down to ten which is inclusive of Georgetown," Hutson told media operatives on Tuesday.
The examination, to last for two days, will begin on April 17, 2019.
Hutson stated that much has been done through the Ministry and other stakeholders to ensure that the pupils are prepared for the period.
"We've done a number of things. We had lots of training sessions done with our Education officers who are responsible for supervising schools; we've had what we call Mathematics Camp for our children and we've also had special classes for some children in all the core subject areas. We've done training for our teachers [while] for our education officers we've had extensive professional development sessions and many of us, including the Minister, myself and many other officers, actually travelled throughout the Regions giving the students and teachers tips as to how they could move forward," he said.
He also noted that Television programmes such as the Learning Channel have helped children learn what they need to do to prepare for the NGSA.
"We've also encouraged parents to be supportive of their children and to ensure that they study and ensure that time is marked out for them to actually do revisionary work," the Chief Education Officer said, adding:
"Many of our teachers are working assiduously to ensure that we actually see an improvement in terms of our performance when compared to last year and if you look at our trend you can see that we have been improving. We're not where we want to be but certainly we are on the move and this train is not stagnant."
Speaking with Headteacher at the St. Gabriel's Primary School, Pamela Phillips, she attested that teachers have been doing their best to prepare the Grade Six pupils.
She stated that the pupils at her school are so eager and excited to write the examinations that they are already picking out the top schools they hope to attend.
In 2018, a boy from the school secured placement at Queen's College, the country's top school.
Phillips also noted that, in the remaining days, work will be done to ensure that the 145 children to write the examination and their environment are well-prepared.
"We have study groups with them from after three o'clock to five-thirty or six in the evening; we have our auditorium that we have to set up by Friday; we have everything like the First Aid kits, water and whatever is necessary for them for those days," she said.
While she noted that there is a group of children who are exceptionally good in all the subject areas, she left an encouraging message to parents to play their role in preparing their children for academic success.
"When parents are involved in their children's education you have a greater performance from them," Phillips said, encouraging: "Spend time with them, study with them and you will get good results."
Meanwhile, over at the Christianburg Primary School in Linden, teacher of the only Grade Six class there, Verionne Emanuel, stated, on Wednesday that her 24 pupils who will be writing the examination have been given the skills to excel.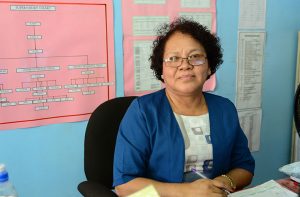 "They're confident but they still need to apply themselves more in terms of being more vigilant when they're working their papers to be able to answer the questions properly and interpret what exactly the question is asking in order to answer correctly," she said.
Some of the strategies being utilized by the school include diagrams to help with Mathematics and assisting the students to memorize formulas that can help them easily solve a problem.
Last year the school produced one pupil for a top school in the capital while others gained top schools in the Region.
The pupils are presently and temporarily attending school at the St Aidan's Primary School as the Government is working to rebuild their school.
Emanuel said: "I know the amount of work that we would have done and covered so far and the children have good ability and potential; it's just that they have to push out the work to match that potential."
At the Leonora Primary School, one teacher told the newspaper that the 133 Grade Six pupils there are working on mock examination papers; past test papers and are also being advised on how to behave during the examination.
Meanwhile Grade Six Teacher, Leroy Mitchell, at the New Amsterdam Primary School, told the newspaper, on Thursday, that the teachers have been preparing the 43 pupils to write the examination by means of mock examinations.
He also noted that the pupils have been involved in Mathematics Camps and are being tested through past examination papers.
"They are feeling prepared," Mitchell said, adding: "Some of them are eager to learn and some of them have some challenges but we're working to overcome them. [To parents] speak to your kids and go through their notes step by step with them. Even if they don't know the children can read to them and special lessons help."
Meanwhile, to all the children gearing up to write the examination countrywide, he urged them to be "driven and motivated" which he said would see everything eventually falling into place.