THE list of allegations of roguery against Guyana Cycling Federation (GCF) president Horace Burrowes continues to grow, as former multi-time National champion, Raynauth Jeffrey has stepped forward with claims that the embattled GCF head is waging a personal vendetta against him.
In an emotional social media post, Jeffrey stated; "I'm a former Guyanese multi-time National champion, and I say former because I've been treated as such by Horace Burrowes and the Guyana Cycling Federation."
He continued; "For the past 4 years I've been victimised, alienated and discarded by the federation from every touring team and every opportunity to represent the country of my birth. Despite being in the best form of my life I was continuously passed over for selection. My guess is I refuse to be a follower, a puppet and to give in to the bullying tactics of the Burrowes-led federation."
This comes in the wake of Burrowes failing to call elections for the GCF, even though the constitution clearly states that elections were to be held no later than March 31, a date which has passed two weeks now.
In more worrying allegations, Jeffrey revealed; "There are so many instances of encounters and attempts by this individual (Burrowes) to cripple my career as a cyclist, too many to list."
"I can guarantee had I been selected over the years, Guyana would have had at least one gold medal if not more at the Caribbean Championships in both Time Trials and Road Race."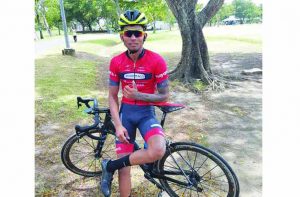 Jeffrey then went on to divulge such an instance of attempted sabotage by Burrowes; "Fast forward to more recently at Speedweek 2018 in the USA. I was all prepared and made the mistake of posting on Facebook that I was racing at Speedweek. Much to my shock, when I showed up to pick up my package, USA CRITS (body in charge of Speedweek) told me I could not race because the president of my country's federation had told them I'm not allowed to do so".
"Desperately I reached out to seek help. It turned out that Horace Burrowes had personally called the Technical Director of the USA Cycling Federation and told them not to allow me to race because he did not authorise it and that my licence was fake!"
To this end, Jeffrey questioned the authenticity of the GCF, saying; "My licence was issued by the GCF; so then maybe he was giving fake licences! Thanks to Keith Fernandes and Elvis Budhram, who both communicated back and forth with USA Cycling, that the situation was resolved in time for me to race that evening and the entire series".
In yet another example of victimisation, Jeffrey pointed out; "Not finished here, he then tried to block me again from racing in Floyd Bennett (an airfield used for cycling series in the USA) using licensing as a reason, after I was leading the series and his brother was in second. The aim probably was to prevent me from competing so his brother could win the series. At the same time other Guyanese cyclists who were affiliated to him were allowed to race in the series without valid licences. The list goes on and on."
"Throughout my career as a cyclist I've earned every bit of my way and opportunity because of my ability and dedication, unlike others who have stooped to their master just to be given the opportunity."
He concluded; "It's 2019 and it's Speedweek in the USA again. Let's see if Burrowes will try to block me again from competing. The GCF has not issued licences as yet for 2019, so he may have a foot to stand on this time!"