Scrumptious waffles ready to go!
IT IS due to perseverance and innovation that the Beckles brothers managed to stay afloat after their first business venture, the GT BBQ Hut, folded. Now, the entrepreneurs are back again with their newest establishment, the Waffle Boss GT.
The brothers explained that because barbecue establishments are quite popular in Guyana, this contributed to the main reason why the BBQ Hut was not successful.
The Beckles brothers, David, who is a chef by profession and Daniel, who has a full-time job running a veterinary consultancy service told the Pepperpot Magazine that after the near collapse of their first business they knew they had to come up with another business plan to remain financially viable.
The idea
And after a visit to the United States (US), the waffle house idea was conceptualised by Daniel, who convinced his sibling to get on board.
He later returned to Guyana and having imported the waffles machines, the Waffle Boss GT business got started with a small scale operation located at Lot 48 Sheriff Street, Georgetown opposite Sankar's Auto Colours. This was just over a month now.
Daniel said, "The venture is an all-American tradition that was lacking over here and we saw it fit to tap into the market locally by bringing that tradition here to see how practicable it is."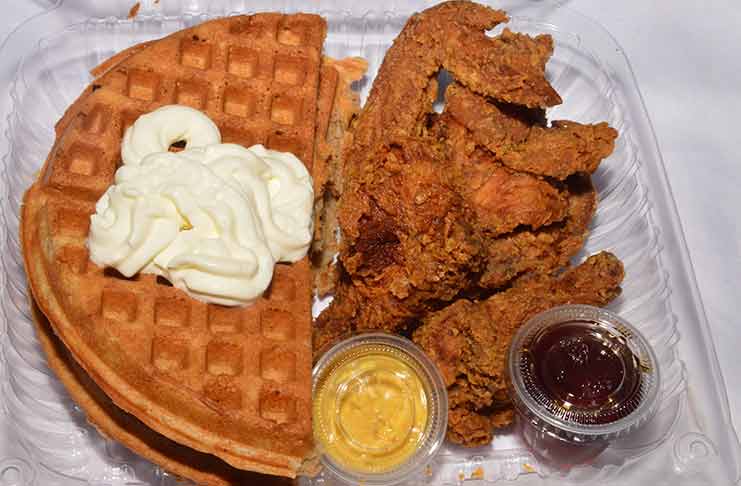 When asked about the response, the young businessman related that it has been overwhelming because they can barely keep up with the demand since it was supposed to be just for brunch but now they get orders all day.
He pointed out that the business wasn't supposed to be an all-day operation but customers are flocking the place in droves and they do not want to disappoint them and have since made an exception to take all orders within the specified closing time.
Menu
Waffle Boss GT has six different types of waffles such as chocolate, vanilla, cookies and cream, blueberry, and strawberry with sides including fries, wings, eggs, sausages, plantain, bacon, and cheese.
In addition, there are toppings of white chocolate, gummy bears, and fruits. To compliment the waffles they also offer milkshakes, iced tea, smoothies and waffle cones.
Preparation starts early with the frying of the wings and making the batter for the waffles from scratch since everything is done in-house and freshly prepared under strict hygienic supervision.
According to Daniel, the waffles takes three to five minutes to make and they usually deep fry the chicken wings early because they don't want customers to wait long for their orders.
Most of the ingredients are bought locally while the ones that are not available here are substituted.
Waffle Boss GT employs seven persons in which chef David is in charge of manning the operation while Daniel would assist when required and their father does the delivery of orders via his motorcycle.
Daniel told the Pepperpot Magazine that over time they will expand with a new location which is more spacious for a dine-in restaurant and will offer a 24-hour service.
"We have a vision and it is for our business to flourish in terms of becoming a large scale one where we can provide employment for more people and for customers to dine in a very spacious and comfortable space as well as for it to become a family business," Daniel said.
He stated that they are regular folks who, grew up in Bel Air, Georgetown but lost their house to a fire, a few years ago.
As such, they are still in the rebuilding process and they may move their business there when the construction is complete in another six months.
So far, the feedback from customers has been nothing but good coupled with a few suggestions which will be realised when the business evolve to a new location, said Daniel.