PROVISIONS for the involvement of women and youths in the protection and preservation of the environment were the main concerns of stakeholders at the hosting of a workshop on Guyana Reducing Emissions from Deforestation and Forest Degradation (REDD+) Readiness activities on Tuesday.
The workshop, geared towards the private sector and Non-Government Organisations (NGOs), was hosted at the Cara Lodge and saw discussions on the newly-designed REDD+ Communication and outreach strategy and action plan.
It was hosted by GlobalCAD, an international agency contracted by the Ministry of Natural Resources to conduct the consultations under the Forest Carbon Partnership Facility (FCPF) Project.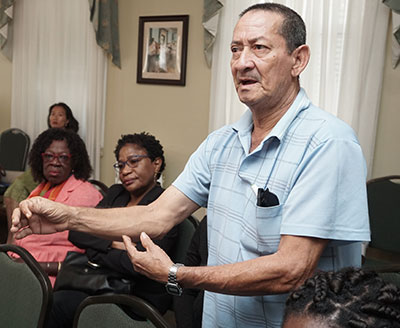 The aim of the FCPF Project is to provide financial and technical assistance to support Guyana's efforts to establish an enabling framework and build capacity for REDD+.
Meanwhile, the aim of the consultations is to ensure that key stakeholders understand REDD+ and have strong participation in the readiness process and the REDD+ Strategy development.
Stakeholders involved are all working towards protecting the environment; responding to climate change and promoting renewable energy. Following presentations from FCPF Project Assistant, Michelle Astwood, on works completed and future plans, members of the audience were allowed to voice their concerns.
Those attending varied from representatives of small youth and women's groups to large companies such as ExxonMobil.
A question from Commission Chief Executive Officer (CEO) of the Women and Gender Equality, Diana Swan-Lawrence, stirred up talks on the need for greater involvement of women in the environmental activities.
Astwood explained that while, when focusing on women, priority is geared towards women working within the natural resources sector and women who are governors of large areas of land at the community level, consideration can be made to include other groups of women.
"We realised last year that there is no component specifically dealing with gender, and as a result, we started working with a gender communications officer and we developed a programme. And last August, we had a gender mainstreaming workshop," she said.
Astwood added that the programme dubbed 'Ready Women in REDD+' saw the attendance of women from Guyana's 10 administrative regions, who received information from the government and the Inter-American Development Bank (IDB) on the role of women in REDD+ Readiness.
"We're very happy with that initial workshop and, as a role off from that, we're trying to roll out a project where we're working with different individual women's groups in different villages and communities to see how we can further support those organisations to function, and then share some REDD+ information. She noted, too, that the Guyana Women Miners Organisation (GWMA) is represented on the Ministry's Project Steering Committee.
A representative of the Guyana National Youth Council (GNYC) questioned the opportunities available for youth involvement. In response, Astwood pointed out that the work of the Gender Relations Officer also focuses on youth in primary and secondary schools across the regions.
"For 2019, we are looking at how we can more actively engage youths," she said. "We started two separate approaches to that. [That includes] collaboration with the Office of Climate Change, which has already established a school programme for youths…we have special times that we introduce concepts of REDD+ just to ensure that the different age groups understand the importance of the forest and how they can help to conserve by doing simple things."
Meanwhile, working along with the Guyana Youth and Environment Network (GYEN), the ministry is seeking out other types of youth groups through which it can have panel discussions with youths of a higher age.
After the completion of GlobalCAD's consultations for the month of March, it will host a media launch of its communication materials to be utilised to promote REDD+ Readiness Activities.
They include REDD+ videos; radio messages; brochures; posters; online articles; and a specific REDD+ kit for schools.
Already, stakeholders have established and operationalised several national readiness management institutions and arrangements such as the REDD Secretariat; the National Toshaos Council (NTC) and the National REDD+ Working Group (NRWG).
In its efforts to effectively support continuous REDD+ consultation and engagement activities with Indigenous and other forest dependent communities, the NTC has received much support. In addition, at the end of the month, Minister of Natural Resources, Raphael Trotman, will hand over office equipment and supplies to the NTC intended to strengthen and build their to support the REDD+ Readiness.
Over 40 countries are signed on to the FCPF Project which receives its funding from the IDB.