VOLUNTEER organisations have once again targeted the homeless and needy in Georgetown, this time providing baths, clothing, haircuts, food and medical care to some 200 persons on Thursday.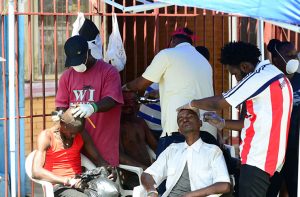 Teaming up were the Raising and Extending Arms to Care and Help (REACH) Foundation and Potluck, along with the support of medical practitioners, volunteers and donors.
They set up tents and tables along the pavement just outside the Bourda Market opposite the Guyana Post office on Regent Street, Georgetown.
A number of men and women were seen trying on new items of clothing; others were being assisted in taking a bath while several men were seen receiving fresh haircuts.
Nicholas Chesney is heading the REACH Foundation which was officially launched in December 2017, while he was a student at the Guyana School of Agriculture (GSA).
Last year, the team of persons reached out to over 100 persons after merging their efforts to raise $100,000 in funds to help the 'society's forgotten citizens'.
While the groups did not intentionally plan for the event to be held on Phagwah day, the celebration of good over evil, Chesney said the event served as an opportunity for persons to show love in an active way.
"Last year, we catered for 100 persons and we realised that more than 100 persons came, so this year we increased it to 200 persons and we have a lot more than 200 clothing items so I think we'll pass 200… because once a person comes we'll give them," Chesney said.
He added: "We planned this day without focusing on the fact that it's actually Phagwah, but we're glad that it happened on this day because for the Hindu society, Phagwah is a colourful day and so I see it as giving love to the community."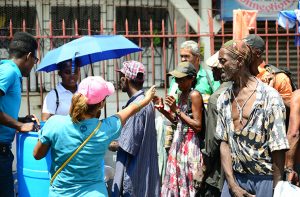 Meanwhile, the Potluck Non-Government Organisation (NGO) assisted persons medically through blood pressure and blood sugar testing, and the provision of over-the-counter pharmaceuticals.
The only setback with this year's initiative Chesney said, was due to the last-minute planning which did not attract support from some donors.
However, he encouraged citizens to do their best through their own initiatives to give to the less fortunate from their surplus.
"I'm sure we have clothes in our closet that we don't wear and my pastor, Pastor Patrick Findlay, says that if you don't wear something in a year you're not going to wear it so give to somebody in need," he urged.
The foundations are now planning another event which will seek to impact persons living in Sophia.