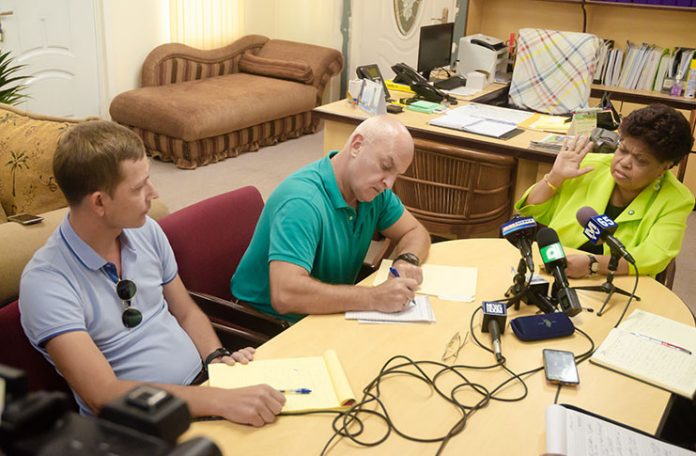 — unions to start protest today
MINISTER of Social Protection Amna Ally on Wednesday morning met with several trade union representatives and reassured that government is intensely deliberating its options as it relates to the termination of some 90 workers by the Bauxite Company of Guyana (BCGI), a subsidiary of Russian company, RUSAL.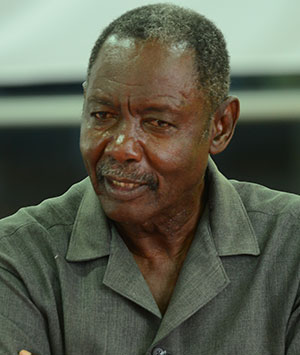 The Department of Labour (DoL) will write the company requesting copies of their contracts with the employees, while the umbrella trade union bodies, the Guyana Trade Union Congress (GTUC) and Federation of Independent Trade Union Guyana (FITUG), are scheduled to begin protests from 10:00 hrs today outside of the RUSAL-BCGI's Forshaw Street office.
The minister met with officials of the trade union bodies at her Lamaha and East Streets office on Wednesday to update them on the situation following a meeting with RUSAL executives on Tuesday afternoon.
"We will explore the options; government has already begun to examine options," Ally assured the group which included GTUC General Secretary, Lincoln Lewis and FITUG executive, Komal Chand.
"I trust that from here we will have something positive from this matter, but be reassured that we are going to work to the best of our ability to ensure that this matter is resolved. We are taking our time because we want an amicable solution. We are not in war mode, but we have to respect each other. We listened to what is their side of the story", Minister Ally said.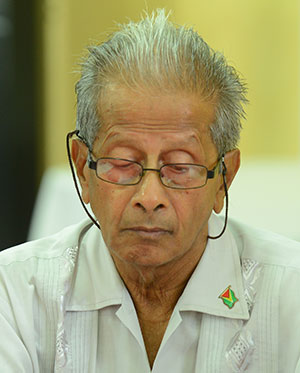 The government is maintaining its demand that all fired workers must be reinstated with full benefits since they were illegally fired. It is also calling for the Guyana Bauxite and General Workers Union (GBGWU) to be recognized as the workers' bargaining agent. GBGWU is calling for the minister to call for the situation to go to compulsory arbitration, as provided for in the law.
BCGI was last week expected to reinstate some 60 workers who had their services terminated on February 18, because the workers had begun strike action on February 15. Instead, things took a turn for the worst when another 30 workers received notices on Monday, February 25, that they were being laid off.
Notwithstanding the fact that Guyana's constitution provides employees the freedom to strike, BCGI had deemed the strike by the employees as an "illegal action", believing that the company was within its legal right to fire the workers. The company's representatives said the workers' contracts did not provide for them to be absent from work, not even in the event of a strike. However, they have since been clearly instructed that Guyana's laws are to be respected.
Oddly, however, is that even as the company is refusing to reinstate workers on the claim that it is closing down sections of its operations, it is also looking to hire new people. RUSAL executives on Tuesday said they are expected to begin a hiring-exercise from this Friday, and dismissed employees will have to reapply and rejoin the company as new employees if they want to work again.
Minister Ally was firm in her warning to the company that, "that would not work at all."
"I was not happy with their response because all that happens is that they're putting on the table conditionality with no intent to reinstate these workers. They had an 11 point plan, some of which tells us they are dismantling things. They are going to re-hire from Friday.
I made it very clear to them that is unacceptable, unthinkable and unreasonable. I do not believe that we can accept those proposals because the workers should be reinstated and thereafter we can have discussions with how we can move on" Minister Ally explained to the Union officials.
The minister also needs further clarification on the company's contention that it pays each worker $259,000.
"They're saying the $259,000 is for all levels of workers. So if you're a driver or a mechanic, everybody getting the same thing; so I would like to get from them the official record because maybe that is also something we would have to delve into. As is now, there is no firm decision from RUSAL as to the future but I must say government will not accept what is presently existing. I did indicate to them that we will go to the full length", she reiterated.
Lewis informed that the Unions themselves also plan to be very proactive on the issue. Aside from the protest today, they will be doing their own investigations into the company's operations, even as they push for the situation to go to arbitration.
The veteran trade unionist is maintaining his belief that the company is possibly involved in transfer pricing, and that is why BCGI officials are contending that in the 14 years of the company's operations, they have not really made any profits.
"The union has already taken a decision to have an examination of [BCGI's] financial records and so forth. We have approached the deeds registry to have the accounts over the last five years, because we are convinced that they are price transferring. All the bauxite that they produce goes to their plants. We need to go after these guys, this is our resource. These are people who say every month to the workers we have made our target, so how are you making your target and not making profit?" Lewis questioned.
Lewis added that the Union is also examining the company's mining licence and will be approaching the Guyana Geology and Mines Commission (GGMC) as well as the Guyana Revenue Authority (GRA).
Chand said that the government must treat with this situation with utmost seriousness because it could set the precedence for how other international companies may treat Guyanese workers in future.
"This matter ought to be settled speedily… it is emboldening these companies that come here to do business. Over the years the trade union movement has fought and achieved a lot of rights and benefits in legislation, and we don't want to go have to go back on the ground and fight back for these things to be respected. The important issue here is the union's recognition… and re-engagement of the workers. People have a right to withdraw their labour for their rights", Chand established.