AMID tearful moments at the Eugene F. Correia International Airport on Friday afternoon, the remains of Captain Randy Liverpool, the pilot who perished in the Cessna 206 aircraft accident at Eteringbang in the Cuyuni/Mazaruni, were recovered and brought to the city.
The body arrived at approximately 13:45hrs, when family members and colleagues were present to receive same, and offer moral support, the Guyana Civil Aviation Authority (GCAA) said in a release.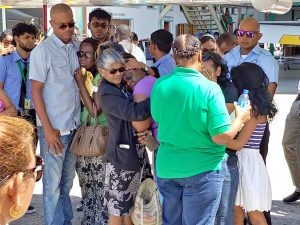 The umbrella aviation body said inspectors, along with an investigator from the Guyana Aircraft Accident and Incident Investigation Unit, were at the crash site to begin their investigation into the fatal accident. The Domestic Airways Cessna 206 aircraft, bearing registration 8RGHB, crashed upon approaching the Eteringbang airstrip at approximately 17:45hrs on February 21, 2019.
The death of Liverpool has sent shockwaves throughout the civil aviation fraternity, including the GCAA. Captain Liverpool worked with the GCAA as an Air Traffic Controller before pursuing his dream of becoming a pilot. The GCAA said it extends its condolences to the family, friends and the aviation fraternity on the passing of Captain Randy Liverpool. "Our thoughts and prayers are with them," the body said.