An honest living
THE rearing of pigs is one of the many economic activities pursued by residents of Ann's Grove.
Though not being done on a large scale, it is sufficient to keep the trade alive , while eking out a living for many a household in the community.
The Pepperpot Magazine recently made a tour of Ann's Grove and visited a few pig rearing establishments, that serve as the main means of income for several residents in the community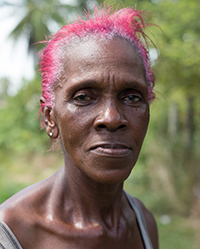 What was observed is that there is need for a helping hand to be extended to the farmers in order to boost the trade. There is also need for better and more spacious accommodation for the animals and an assured flow of feed which would guarantee them an adequate supply of feed on a daily basis. Not least, there is need for an arrangement to be worked out, which would facilitate the movement of the 'bull' to the sows wherever they are, in order to facilitate mating. The latter view was expressed by Dawne Griffith who is deeply committed to pig rearing, and has been in the business for more than three decades.
Ideally, the pig farmers of Ann's Grove would benefit considerably, were they to receive help from the joint initiative being rolled out by Food for the Poor (Guyana) Inc; the Ministry of Agriculture (M.O.A), and Guyana Livestock Development Authority (GLDA).
The project speaks to the successful implementation of pig rearing for low income families, as an alternative source of income to boost their economic status.
This project which got underway last July, with a capacity building workshop for participants, involves the rearing of pigs by the targeted individuals at their respective residences.
During a capacity building workshop, participants were trained with technical assistance being provided by the Guyana Livestock Authority.
Essentially, the beneficiaries are expected to get four piglets – three sows and a boar. They will also be given materials to construct housing (a shed) to accommodate the pigs (10' x 5' x 5') , in addition to a six month supply of feed for the animals.
The project continues and so far, some 60 families are expected to benefit from the capacity building workshop – 30 from Region 10 and another 30 from Region Five.
Since pig rearing constitutes an active source of employment for low-income families of Ann's Grove, the villagers are signalling their interest and would be most grateful to be included in the Food for the Poor (Guyana) Inc; the Ministry of Agriculture (M.O.A), and Guyana Livestock Development Authority (GLDA) project.