GCC retain women's title; take Vets

THE trio of Guyanese teams– Pepsi Hikers, the GBTI Georgetown Cricket Club (GCC) Ladies and the Old Fort Over-35 men's team claimed victories over their Trinidadian counterparts in the division finals of the Diamond Mineral Water Hockey Festival last evening at the Cliff Anderson Sports Hall.
The 2016 winners, Hikers, won their eighth overall title after a thrilling 2-0 sudden-death shootout over defending champions, Queen's Park Cricket Club (QPCC), in the Male Open final after the teams battled to a 4-4 tie at the end of regulation time.
Meanwhile, the GCC and Old Fort teams claimed 3-2 and 4-3 victories respectively over the Ventures and QPCC in the Female Open and the Over-35 finals.
OPEN MALE FINAL
On the court, Hikers looked the better team, with better passing and execution.  The home side took the lead in the fifth minute of the game with Aroydy Brandford finding the back of the net; but despite controlling the possessions, Hikers found themselves temporarily trailing a few minutes later.
Former Guyana player, Jerazano Bell, who now plays for the QPCC, led the charge for the visitors.  He scored the first of his three goals in the seventh minute with a diving shot at the mouth of the box, then 30 seconds later he lifted a ball away from the reach of keeper Jason Hoyte.
The 2-1 lead by the visitors was soon erased after Jamarj Assanah fired in two successful strikes in the ninth and 10th minutes before Devin Munroe added another three minutes later.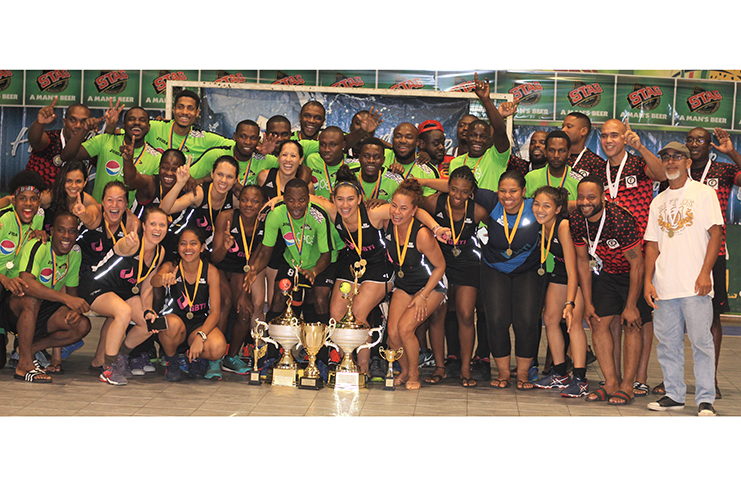 The score did not change for the rest of the first period and for most of the second. It was not until the last three minutes of play that the game got exciting.  QPCC decided to play an extra player and sub their keeper and the goals came. First, it was Bell with a slick touch from an outside-of-the-circle pass, before a defence breakdown by Hikers left Jordan Vieira with space.
In sudden death, Hoyte made two good saves while Assanah and Brandford found the back of the net to ensure a Hikers' victory.
In the female final, GCC defended their title.  Marzana Fiedtkou in the fifth minute, Sonia Jardine in the 15th minute and Gabriella Xavier in the second period were on target for the winners.
Kristin Thompson and Anya Sealy scored for the visitors, who were trailing 2-1 at half-time.
Old Fort won the Over-35 battle with a 4-3 victory over defending champions, QPCC.  Dwight Sullivan, Askufo Simon and John Abrahams had carried the home team to a 3-1 lead by the break before Solomon Eccles sealed Old Fort's victory in the second period.
Over the five-day festival, 54 games were completed.