ON the observance of World Day of Remembrance for Road Traffic Victims, Minister within the Ministry of Public Infrastructure, Annette Ferguson, urged citizens to speak out against reckless road users.
World Day of Remembrance for Road Traffic Victims is observed annually every third Sunday in November and recognised yesterday in Guyana by an awareness walk from the Kitty Roundabout to the Seawall Bandstand.
The event was hosted by the Guyana National Road Safety Council in collaboration with the Guyana Police Force Traffic Department and the Ministries of Public Security, Public Health and Public Infrastructure.
It was guided by the theme: "Stop Accidents before it stops you. Be Alert, Accidents Hurt".
In addressing the topic of road safety, Minister Ferguson said, "Many of us who use the road, who use the public transportation can speak out and let these drivers understand that our lives are indeed important because when they crash and lives are lost they continue with their lives, they move on to another vehicle and other lives are also in danger. So as road users, as users of public transportation, the time has come for us to speak out; to let these reckless drivers know that our lives are important."
Minister Ferguson also addressed the traffic chief, stating that it is high time that police patrol becomes constant at nights to arrest drivers who break the law or drive with high-beam lights affecting the vision of other drivers.
She stated: "The time has come for your officers too to patrol at nights because we have these reckless drivers at nights with these high [powered] white lights outfitted on vehicles so that the oncoming traffic is at a disadvantage…traffic chief the time has come for us, for you and your team to step up and carry this campaign seriously. Too many lives have been lost on our roads and the time has come for the police to be what they're place there to be; especially the traffic department."
She stated further that the Ministry of Public Infrastructure will continue to play its role in ensuring that safe roads are constructed, especially catering for sidewalks, which help to keep pedestrians out of harm's way.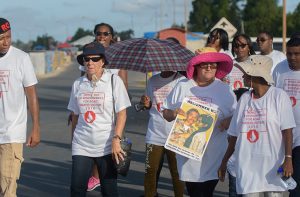 "This year and last year we would have installed a lot of sidewalks in major areas in Georgetown and to some extent we will be going out of Region Four. That in itself will say to you that the government is indeed serious to ensure that the majority of our pedestrians and also those who use the roads would indeed adhere to the features being outfitted on our roads," she said.
With this in mind, she also urged pedestrians to play their role by using the road safely and adhering to the road safety rules in place to protect them.
Presenting remarks on behalf of the Ministry of Health was Head of the Emergency Unit at the Georgetown Public Hospital Corporation (GPHC), Tracy Bovell.
She stated that from January to October 2018 there have already been some 1,385 road traffic accident victims while 77 per cent of all trauma-related deaths are males.
Treatment of road accident victims, she added, remains very costly for the public health system; destroys families and can cause mental health issues for those would have caused or experienced the traumatic event.
As such, she urged persons not to drink and drive; to desist from texting and driving; to always wear seatbelts or helmets and to never transport children on motorbikes, squashed in the middle and without a helmet.
Remarks came too from representative of the Pan American Health Organisation/World Health Organisation (PAHO/WHO) Paul Edwards; Regional Vice Chairman of Region Four Earl Lambert and Supt. Traffic Officer Linden Isles.
Edwards urged citizens to get serious about addressing the stagnant problem of traffic or road accidents.
He stated that each year some 1.2 million persons are killed in road accidents in events which can be prevented.
With this in mind he stated: "All stakeholders, including government, represented here today need help us all to take action to address road safety in a very holistic manner. This requires involvement and engagement from multiple partners including transport, police, health, education and actions that [ensure] safety of roads, vehicles and road users."
Meanwhile, Lambert urged citizens to prevent accidents by being their brother's keeper and speaking out against careless driving, while Isles posited that persons should understand the damage accidents can cause to families and they will need in turn.
Group presentations also came from the Mothers in Black/Alicia Foundation while an educational road safety simulation was depicted by the Guyana Red Cross.