FORMER President of Guyana, Donald Ramotar was on Thursday being cross-examined in the case brought against the present government, which seeks to block its decision to revoke the 99-year lease from the Cheddi Jagan Research Centre Incorporated (CJRCI).
Ramotar is being grilled by Attorney General and Minister of Legal Affairs, Basil Williams and a team from the Attorney General chambers. The case is being heard at the High Court.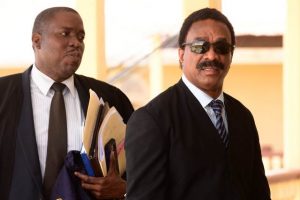 In December, 2016, President David Granger had ordered that the controversial lease for Red House, which housed the CJRCI be revoked and that the occupants vacate the property on the basis that there was no valid lease agreement.
With the Acting Chief Justice, Roxane George declaring more than a year ago that the matter could not be determined by way of interlocutory hearings, the case came up in open court on Friday.
Former Attorney General and Attorney-at-Law, Anil Nandlall and Attorney Ronald Burch-Smith appeared on behalf of the applicant – CJRCI, while the State was represented by Attorney General and Minister of Legal Affairs, Basil Williams, Solicitor General, Kim Kyte and State Counsel, Utieka John.
When the matter was called before the chief justice, the attorney general made a request for the former president to be cross-examined on the basis of his affidavit, which was taken as the evidence in chief.
Ramotar, in a sworn affidavit, said he had approved the 99-year lease of the Red House to the CJRCI.