PRIME Minister Moses Nagamootoo on Saturday called on the private sector to provide cheap and affordable financing to the agriculture sector.
He made the appeal while delivering remarks prior to declaring open the two-day Regional Agricultural Commercial Exhibition (RACE), being held by the regional administration of Region Five (Mahaica-Berbice) at the sports ground, Paradise Village, West Coast Berbice.
PM Nagamootoo, standing in for President Granger who was unable to attend the event,  noted that the Small Business Bureau had disbursed millions of dollars in loans to small business owners; that thousands of young people were receiving training for small business start-ups in organisations such as the Hinterland Employment Youth Scheme (HEYS).
"These beneficiaries have been trained for developing small cottage industries and they are doing so; and they are making quite a decent livelihood out of their businesses."
He added: "Food production equals to job creation and job creation leads to wealth creation."
He stressed that even with income from oil production soon to be a significant a part of the economy, agriculture will always be at the forefront.
He said: "I urge the private sector in Guyana to get into the action; to put their money where their hearts are and we know that their hearts are in Guyana. This government intends to depend on collaboration between the state, the region and the private sector to work in partnership to build the economic potential of Guyana as the breadbasket of the Caribbean and beyond."
Prime Minister Nagamootoo, accompanied by his wife Mrs. Sita Nagamootoo, officiated at the cutting of the ribbon to declare the exhibition open.
Other speakers included Chairman of the Region Five Chamber of Commerce and Industry Mr. Imran Saccoor, Regional Executive Officer Mr. Ovid Morrison and Parliamentarian for Region Five Ms. Jennifer Wade.
Other officials present included Minister of Communities, Ronald Bulkan; Minister of Social Protection, Ms. Amna Ally; Minister within the Ministry of Public Health, Dr. Karen Cummings, Permanent Secretary of the Ministry of Agriculture Ms. Delma Nedd, Permanent Secretary of the Ministry of Communities Emil McGarrel.
The Region Five RACE is being held under the theme: "Sustaining a green economy through food security."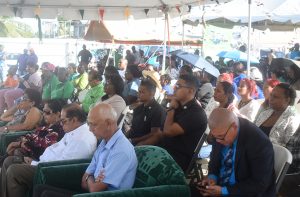 Exhibitors at the first day included agricultural organizations such as the Guyana Livestock Development Authority (GLDA), NAREI, Agri Machinery owners, the Health Services Department of the Region, Food for the Poor the Guyana Marketing Corporation (GMC) , agro-processors and vendors of beauty products among others and a contingent  from the Arawak community of Moraikobai in the upper reaches of the Mahaicony river.
Visitors were also able to purchase fresh greens and vegetables produced by the Regional Agricultural Model Farm located at Fort Wellington WCB.
The opening programme chaired by Carol Smith-Joseph, was spiced with cultural presentations by the Moraikobai Youth Group, African and tassa drumming and a fusion of Indian and African drums.
The entertainment by local entertainers such as chutney artistes Bunty and one man bands continued late into to the first night. (END)