Pledges to work and enhance the lives of Richmond Hill/Ozone Park residents`
By Indrawattie Natram
THIRTY-TWO-YEAR-OLD Guyanese born Richard David has unanimously won as District Leader for the Richmond Hill and Ozone Park area in New York, USA. He is now in charge of the local Democratic Party in those areas and intends to serve his community with distinct honour.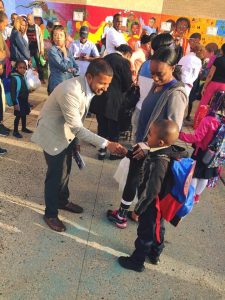 Born in Mahaicony, David left the shores of Guyana at the age of 10 years to take up residence and to further his studies in the United States of America. David is the youngest of three brothers and he always had a mission in life to serve humanity and to bring about positive changes around him.
Interestingly, David is one of the most senior-ranking Indo-Caribbean leaders to be in the New York City Government. He is currently a Chief of Staff at the New York City Administration for Children's Services. He has a Master's Degree in Public Administration from the New York University and an Undergraduate Degree from Hunter College.
During his two years in that post, he had managed to legally represent children's rights and welfare. Before his current job, he was the Executive Director at the New York City Department of Consumer Affairs and prior to that, he was the Vice President of the New York City Economic Development Corporation.
During an interview with the Pepperpot Magazine, David said he ran for the Democratic District Leader in the New York State Assembly District 31 Part B. He, however, did not go to the ballot because he had no opponent. He explained that no one else collected enough signatures to petition and as such, on September 13, he was elected as the leader since he was the only candidate.
This position is an unpaid, volunteer position with a term of two years. He has received endorsements from various elected officials like Assembly members Michele Titus and Vivian Cook, City Council member Adrienne Adams, City Council member Donovan Richards and The Queens County Democratic Organisation.
Having been elected as a Democrat leader he has intentions of getting his neighbours involved in politics and his first goal is to create a political club for the Richmond Hill/Ozone Park area.
"We have not had a visible club in this area; it's long overdue. I personally believe it has contributed to the neglect of many residents. As a leader, I want to see the basic issues and the quality of life for the people improve; their concerns addressed; [that] persons get the attention they deserve. I want to bring our elected officials closer to the people," David passionately said.
HIS POLITICAL JOURNEY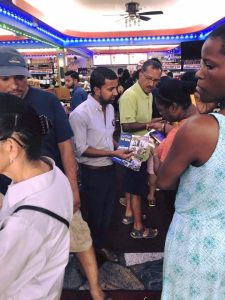 David's passion for leadership led him to run for the New York City Council last year. Unfortunately at that election he did not win, however, he received overwhelming support and more votes for that position than any Guyanese, South Asian or Indo-Caribbean person in New York City history. The leader explained that elections had encouraged him and had given him the push to remain engaged in helping to transform the lives of those living in his community. For 10 years also, he was an active member of the Queens Community Board. In addition to his political life, he co-founded the Indo-Caribbean Alliance- a federally-registered non-profit organisation that provides youth services, civic engagement and cultural education to all residents. He boasted that today it's one of the large Guyanese-run organisations in New York City.
"I have always been involved in public services but I never thought I would run for office. I was afraid to be involved in politics at first, but I realised that I want more people to get involved in the most dynamic way as well as to improve communities," David said.
PROUD GUYANESE
"I am proud to be of Guyanese origin. I think it is important to remain connected to what is happening in Guyana as well as what is happening here in my neighbourhood. I have fond memories of Guyana and I visit whenever I have the time to reconnect with my beautiful birth land. Guyana is dear to me," David explained.
David's mother, who is his biggest supporter, said that her son has the experience and professionalism to transform the Queens community. She believes with his wide knowledge and understanding he will serve as the best District Leader.
"Having been born on Diwali Day, my son is indeed the light of the Ozone community. He influenced the way people think about politics and he was also instrumental in getting thousands the Indo-Caribbean people to register and go out and vote. This is real change" David's mother, Bibi Nesa said.
She further explained that being an Indo- Caribbean Democrat means that one is frustrated. Frustrated with paying tickets, taxes, violations at every turn while still not getting the service one deserves; a matter that David intends to fix.
In his new role, David will, among other responsibilities, participate in nominating judges and elected officials for open seats in the borough. He will serve as the bridge to connect the community with a fairer voice for the people and the district.