.…..teachers and students show up in numbers 
Schools across the country re-opened on Monday morning amidst strike action by teachers with some students in some Regions being forced to return home on the instructions of the school's administration.
In Georgetown , most schools , including the senior secondary schools were open and teachers were attending to the students. At the same time protest action in the city was ongoing at 10:00hrs outside the Ministry of Education on Brickdam. The protesting educators told the Guyana Chronicle that they will continue their strike action until their demands are met.
Protest action was ongoing at other departments of education including the offices in Linden and Port Kaituma.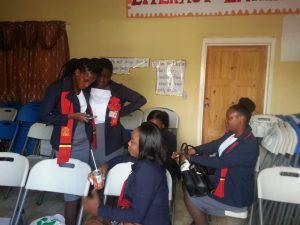 In some schools , such as those on the Essequibo Coast , classes were in session at the primary schools while some parents were awaiting their children to be registered. The registration process was delayed as a result of the strike action taken since last week.The situation was also affecting parents in the city including those whose children are yet to be registered at the Christ Church Secondary .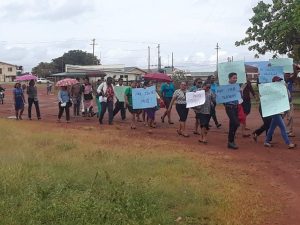 A parent there told the Guyana Chronicle that she has been waiting since last week to register her daughter at the school. This newspaper also visited Queen's College and the Tutorial High School where classes were in session.
In Region Six , a bus load of teachers journeyed to the Education Department building there to protest and march. At the same time , classes were in session at the Rose Hall Primary. Reports are only one teacher was teaching the students there on Monday morning.
In Bartica , the school's welfare officers are manning the classrooms at several schools including the Bartica Secondary and the Three Miles Secondary.  Reports are that the strike action is being undertaken mainly by the secondary school teachers with support from a few primary school teachers.
Regional officials at Bartica are visiting schools around the town to monitor the situation and make necessary assessments. Classes are ongoing at schools and reports are that there are educators , including retirees who are lending their services to the institutions affected by the strike even as the teachers are protesting along the streets.
In Port Kaituma , teachers attached to the Port Kaituma Primary , Port Kaituma Nursery , the Canal Bank Primary as well as the Falls Top Primary assembled at the community in front of the regional administration building there. They are expected to hold protest action there and return home around midday.
In Linden , most schools were empty as most teachers turned up at the Education Ministry department offices to protest.
---
The Guyana Chronicle will continue to update this news story and provide additional information during the day.