…President challenges local government organs to chart own course
LOCAL government organs must become autonomous so as to allow them to serve the interests of their residents, said President David Granger on Thursday as he addressed the National Conference of Local Democratic Organs (NCLDO).
The head-of-state, at the opening of the event themed, "catalysing local government leadership for community and national develop" made it clear that local organs must not be dominated by or become dependent on central government.
"Some local democratic organs, particularly at the neighbourhood and village levels, have been weakened. This is not due to any fault of the residents but because of the lack of resources – financial, human and technical – to guarantee the efficient delivery of quality public services to residents," the President said before local government representatives at the Arthur Chung Conference Centre.
He said the NCLDO could become an annual forum aimed at being a vehicle for delivering improved services to all local communities. "It is about planning and implementation. It must erect institutions to ensure accessible, affordable and appropriate services in all villages." The NCLDO he said is intended to support local government organs by fostering collaboration, and improving coordination to support the renewal and revitalisation of our villages and communities.
As such, President David Granger who was supported by several of his ministers noted that the NCLDO is aimed at "empowering, not emasculating, local democratic organs." "It respects their autonomy. It charges local democratic organs with ushering in a new era in local government, one that will help to improve citizens' quality of life, build local democracy and promote economic development," President Granger declared.
The President emphasised that the conference is a deliberate intervention intended to become a platform for promoting the work of NDCs, municipalities and RDCs. He said it can provide a practical basis for them to work together with Central Government to strengthen community development and improve citizens' quality of life. Moreover, the President pointed to Article 71 (1) of the Constitution of Guyana which notes that Local Government is a vital aspect of democracy and shall be organised as to involve as many people as possible in the task of managing and developing the communities in which they live.
LGE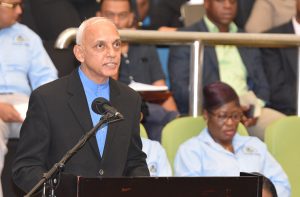 The APNU+AFC coalition government consistent with the constitution on March 18, 2016 restored local democracy after a two decade hiatius. Only recently, Minister of Communities Ronald Bulkan announced that November 12 is the date set for the hosting of the second LGE since the coalition government took office.
"The conduct of regular elections reflects government's sincere commitment to promoting democratic renewal and community development where they count first and most – from the bottom-up. It is manifestation of government's resolve to empower citizens to take control of their own communities," the head of state declared.
He noted too that local democracy gives common citizens the means of holding their high officials accountable through their removal, or through reward; rejecting or re-electing them based on their performance. "Local democracy allows citizens a greater say in their local democratic organs. It creates the catalyst for transforming their neighbourhoods, villages and communities into centres of human interaction," President Granger said while adding that local democracy is not an academic abstraction but one which requires institutions, structures, and systems of governance which can positively transform regions, towns, neighbourhoods, villages and communities and eventually the lives of all who live therein.
There are three tiers which constitute local democratic organs, municipalities, Neighbourhood Democratic Councils and Village Councils and according to the President are not ornamental pyramid.
Protect public property
He reminded that local democratic organs must function in accordance with the constitution which notes that they are to maintain and protect public property, improve working and living conditions, promote the social and cultural life of the people, raise civil consciousness, preserve law and order, consolidate the rule of law and safeguard the rights of citizens.
Noting that the responsibilities are vast, President Granger said the functions require collaboration, cooperation and coordination between the various local government organs and Central Government. "They require commitment by all and at all levels of government and society," he added while stressing that the provision of public services is vital to improving the living and working conditions within neighbourhoods and villages.
Local government organs he said are required to provide quality and reliable services such as preserving cultural values and propagating customs and mores; providing and maintaining bridges, drainage and irrigation structures, roads, security, street-lighting, sanitation, sporting and recreational facilities; and promoting education, employment and economic enterprises, including cottage industries and health.
Meanwhile, the President reminded of the importance of villages. He said the majority of Guyanese still live in villages and villages have incubated the nation. "Villages are the cradle of the nation," he declared.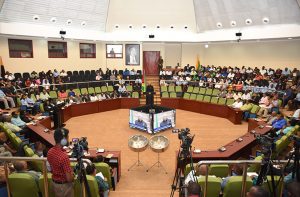 The Ministry of Communities has been mandated to work with the elected local authorities and other stakeholders to revitalise village economies. "Villages need not feel that they have been neglected. They are not sleepy hamlets… the economic bases of villages need to be rebuilt in order to stimulate local employment and enterprise," said the head-of-state. November 7 has been declared National Day of Villages in recognition of the centrality of villages to the country's future.
Empowerment
Minister Bulkan, like President David Granger reminded local representatives of their constitutional mandate. He described the holding of the NCLDO as historic while noting that "We are now in the era of people's empowerment…gone are the days of the micro-manager, gone are the days of control, domination and intolerable interference by Central Government."
"Local Government in Guyana has been catapulted to its rightful position, as the strategic partner in national development and given the attention it deserves…We in this Administration, stand with you as an ally in development," the Minister stated as he assured that the dominance of control is being reversed.
Additionally Bulkan said that the fruits of Thursday's deliberations will be fed into the planning of the 2019 budget which is to be presented to the National Assembly later this year. Similarly, Chairman of the Local Government Commission Mortimer Mingo noted that forums such as the NCLDO represents an "element of cohesion" which he said is the best way to achieve a win-win-outcome.
Such a metamorphosis he said is critical to the enhancement of local governance, he stated. The regional officials were part of interactive sessions which spoke to the leadership of administration, leadership of councils and constituencies. There was also a presentation on the modernising of the property valuation system for financial sustainability of local democratic organs.