SOMETIME last year, I was sitting in an English class at university. The lecturer was discussing linguistics. She asked a question: 'What do we think about our creole language?' I was first to raise my hand and answered. I said, 'Creole is a broken language.'
Given all that I experienced growing up in Berbice, I constantly heard this phrase. At that time it was the best answer I had to that question. The lecturer's response is one that I will never forget. She said, 'If something is broken then it cannot be used, but we still use creolese, so is it really broken?'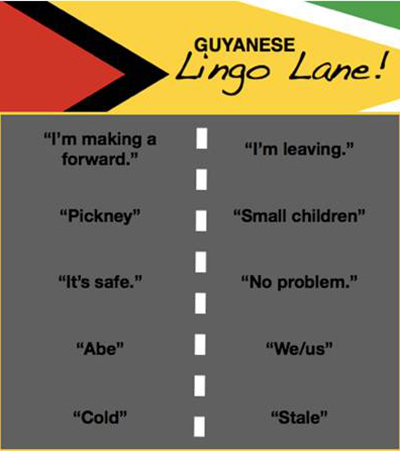 Creolese is a natural language and it is developed from a mixture of different languages. In Guyana, our creolese is mostly English-based, but also includes words from Dutch, Spanish, Amerindian, East Indian and African languages. Guyanese-Creolese varies within Geography, Race and Class. A Berbician may sound completely different, by using the same creolese compared to someone who lives in Essequibo. East Indians may use different slangs from that of the Africans and even the rich may speak differently from the middle-class. This phenomenon happens in every language.
There are approximately 7,000 different languages. It is estimated that by the year 2100, more than 2,500+ of those languages will become extinct. Every two weeks, a language dies in the world. When a language dies, a culture dies along with it.
This is so because we can gather a whole lot about a person's culture just by taking a look at their language and dialect. Our Guyanese-Creolese tells us a story of who we are and where we came from as a people. It brings life to our history, a history of our ancestors who worked as slaves and indentured labourers.
They all spoke different languages and as such, a common speech was formed to help them communicate better with each other and also with their masters. Language, in this case Guyanese-Creolese, is passed down from generation after generation. If by chance an entire generation refused not to speak/use creolese or as the generations go by, fewer persons speak creolese; it breathes a way for extinction.
I grew up with my parents and the majority of times, their speech consisted of formal English. I adapted to my environment, as we all would do and I must say my creolese is not the best. However, I never turned a blind eye on it. I converse with it; use it and I am proud of it. As I was researching, I came across the term 'culture cringe'. This term was first introduced in 1950.
A.A Phillips wrote an essay on it and he described this phrase as, 'an internalised inferiority complex that causes people in a country to dismiss their own culture as inferior to the culture of other countries.' Could this be the reason why so many of us choose to discard our creolese? No culture should be superior or even comparative to another. Each culture is unique and the same goes for language as well. I can't deny the fact that speaking the English Language helps us on a global platform.
As we migrate, engage in business transactions, etc., many persons may not be able to understand us when we speak creolese. However, I ponder on the thought that if we could learn English Language so that others can understand us, why not teach them our way of speech so that they can understand us as well? It always seems one-sided if you would ask me.
If I am now to answer the question my lecturer asked, 'What do you think about our creole language?' I would say, Guyanese creolese is something we should own, because it is ours to keep. It reminds us of the past, present and future of our culture. Through good and bad times, it is an innate brand we have as Guyanese, whether if we still live in the country or have migrated. I do not need to hold up the Golden Arrowhead in a foreign country for the citizens to acknowledge me as a Guyanese. I can just simply start talking!