Story and photos by Rabindra Rooplall
A 20-YEAR-OLD mother of one was killed by her reputed husband who later committed suicide by ingesting a toxic substance on Friday at Hope Low Land, East Coast Demerara (ECD).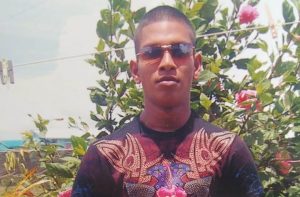 Dead is Deorani 'Priya' Dyal, a housewife of 123 Hope Low Land, ECD and her attacker Doodnauth Ramlall, 28, called "Naresh" of the same village. She was reportedly stabbed 22 times about the body at the aforementioned address, after which Ramlall drank the toxic tablet before fleeing to Greenfield Village, also on the ECD where he was apprehended by police. He was later taken to the Georgetown Public Hospital (GPH) where he succumbed.
Investigations revealed that Ramlall left his common-law home about two months ago due to domestic issues. Shortly after 09:00hrs on Friday he visited 'Priya' who was at home in the upper flat with her son from a previous relationship. Minutes later she was heard screaming and he was seen fleeing the house. Her two-year son was not injured in the confrontation, but is severely traumatised. Neighbours subsequently responded and found her with several stab wounds about the body.
They rushed her to the CC Nicholson Hospital at Nabaclis, ECD, where she was pronounced dead on arrival. One resident said that she heard the young lady shouting "Jenifer, Jenifer, Jenifer," and upon enquiring at the wooden and concrete house where Priya lived, Ramlall was seen running from the yard. Realising that something was amiss, the woman said she ventured into the yard and upon checking upstairs the mother bloodied body of the mother of one was found on the verandah.
She said neighbours later assisted in picking up the body which was taken to the hospital where she was pronounced dead. The woman's father, Indarpaul Dyal, in an interview with the Guyana Chronicle, said he had left to visit his farm around 07:30h on Friday and was later told by relatives that his daughter was stabbed to death by her reputed husband.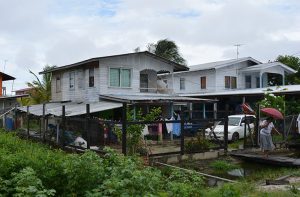 The father of five said that when he returned home `Priya' was already taken to the hospital. "This boy (Ramlall) was lazy, he doesn't like wuk and suh, he like to drink rum and live the lazy life. Some mornings the man left to go search for wuk and never come back, when I asked my daughter about his attitude she couldn't defend him," the father said. He explained that Ramlall had left his home where he lived with his daughter because of his lazy attitude.
Meanwhile, Ramlall's family described him as a quiet person and expressed shock at his actions. "I don't really know what problems he and his wife does go through, but this morning after he done do what he had to do he come home and pick up his bike and ride away," Ramlall's brother said. Relatives said that Ramlall was a fisherman.