WE continue this week with discussing the work of Guyanese writer, Imam Baksh, who won the Burt Award for Caribbean Literature, which recognises excellence in writing for children and young adults. Baksh won the award for his manuscript, The Dark of the Sea, which focuses on a boy from the Essequibo coast who has an encounter with a mermaid.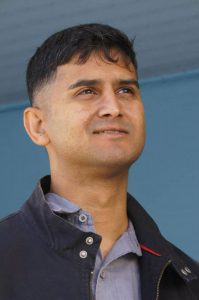 The writer, having won the award before for his Children of the Spider 2015, describes the feeling of this second win as "better", crediting this emotional response to a realisation of the fact that opportunities are indeed rare and are, by extension, quite important.
He received the award at this year's Bocas Lit Fest in Trinidad. On the subject of the festival itself, Baksh says that one thing that stood out, in particular, this year, was the way in which pulling together creative people into a single space was in itself an initiative that results in further creativity. He points out that because of the festival he was able to engage in conversations that "resulted in expanded possibilities for areas I could research for further stories." He says that he also attended workshops which helped him to challenge his own approach to writing, and even from a mental perspective, Baksh points out that he was able to feel rejuvenated to return to writing after engaging with artists who may not even necessarily be writers – artists such as poets, painters, photographers.
When asked about how his win at the Bocas Lit Fest will contribute to the work he does with young writers back home in Guyana, Baksh highlights the fact that he has long been the director of the 'Imam Bacchus Library' which promotes reading on the Essequibo Coast, and it is through the library that he has been able to conduct workshops, short story competitions and the like. He acknowledges the help of education officials in Region Two in making these events a possibility, even if parents and students themselves are hesitant in their support for literacy and writing programmes. Baksh hopes that others seeing him win the Burt Award would engender more of a value in writing for "personal satisfaction and development."
The writer also says that he is currently working with a group who call themselves Voice, who recruited him for help with a dramatic speech competition. Baksh wants to continue to use his current visibility to "increase student participation in writing camps, story competitions, etc." He says that he is willing to come in and help anyone working in the writing/literacy fields in Guyana by running a student workshop, giving talks on writing, answering questions from students, and assisting teachers to be better writers and so on – keeping in mind that he would have to travel from Essequibo
On the matter of the differences between the literary scenes in Trinidad and Guyana, Baksh comments that "there is no substitute for time and money" and while the twin islands have "petrodollars," they have also had it for a long enough time that they now have a tradition of literature that enables them to capitalise on this and enrich initiatives such as the Bocas Lit Fest. In his own words, Baksh says that "there has been time for enclaves of cultural endeavor to spring up, such as 'extempo' calypso, online poetry magazines, writers' support groups, cultural archives, etc. and Bocas acts as a central assembly point for the output while keeping themselves narrowly focused on running the festival itself." He also urges people to be cognisant of the time needed to develop the professional administration skills that a project as big as the Bocas Lit Fest demands – which requires much in terms of everything from legal and rights issues, contract negotiations, sponsor and PR support, along with budgeting, accounting, and many other facets that need to be taken into consideration when planning, conducting and organising something like the Bocas Lit Fest. Baksh also reminds us that the festival has indeed taken time to establish itself and its own unique identity, as it has only made it to its eighth edition after learning from the past seven years.
Baksh's next book is tentatively titled, City of Monuments, and he describes it as being about a second generation Guyanese girl from Washington D.C. who returns to Guyana and discovers that she possesses a hidden power within herself, that she must use in a war between the forces of good and evil.
Baksh's win is an important milestone not only for himself, but also for Guyana as his award enables the country to have some sort of literary recognition from within one of the most important literary events in the Caribbean, and his work should definitely be read by the young people of Guyana. Baksh's first novel, Children of the Spider can be bought at Austin's Book Services and he currently has a contest running on his Facebook page: facebook.com/imambaksh.writer