– as she pushes vaccination programme
MARKING the end of Vaccination Week in the Americas, Minister of Public Health, Volda Lawrence visited the town of Lethem to encourage residents to rally together and ensure that all community members are vaccinated.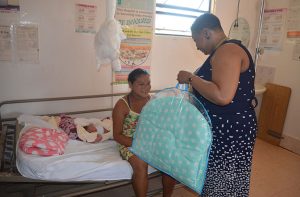 The Minister along with her team and representatives from the United Nations Children's Fund (UNICEF) and the Pan American Health Organization (PAHO) visited the Moco-Moco community in Lethem on Friday for the hosting of the closing ceremony.
This year's Vaccination Week in the Americas began on Monday, 23rd April under the theme, 'Strengthen your Defence #GetVax #VaccineWorks' and is aimed at promoting equity and access to immunization in the region.
Delivering the main address, Minister of Public Health, Volda Lawrence told community members that as migration levels increase worldwide, citizens must be immunized to fight against vaccine-preventable diseases.
Utilizing the Guyana-Brazil border as an example, Lawrence said that to achieve this, countries cannot stand alone but must work together to see long-lasting results.
"If something happens in any one of those countries which we share friendly borders with, then we can't sit here and declare that 'oh it's not us, it's not our people'.
"But rather, we have to work with and give protection and service wherever necessary…" she remarked.
The Minister added that history shows that regions near unmanned borders are usually the highest points for infection transfer due to the ease of travel.
As such, she stated that each Vaccination Week must be entirely utilized for educational campaigns and for the immunization of all citizens, both young and old, despite their location.
Speaking on the deadly disease of cancer, Lawrence implored parents to put aside myths and ensure that their daughters get vaccinated to guard against cancer-causing diseases such as Human Papilloma Virus (HPV).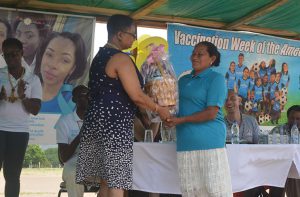 "We have the responsibility to protect our children, especially our 9-years to 13-year-olds. We have that right and that responsibility to ensure that they are vaccinated and in so doing, we can ensure that they can live a healthy life without cancer," she said.
Meanwhile, UNICEF Representative, Paolo Marchi told the community that although there are misconceptions about vaccines, there is proof that they continue to save the lives of millions of children.
He said that the works being done in Moco-Moco by the health ministry is testimony to the Government's determination to ensure Guyanese have equal access to health care.
"I've seen the incredible work that the Ministry of Health has put in to ensuring that there is a system and that it's a very tailored system to make sure that all children of Guyana, and especially the children who might be hardest to reach, are going to be vaccinated," he said.
Addressing the gathering, representative from PAHO, Dr. Jean Alexandre, said that through vaccination the Americas has eliminated small pox, polio, neonatal tetanus, rubella and congenital rubella syndrome over time.
Although measles was eliminated two years ago in the region following massive vaccination efforts, the Americas is now facing imported cases of measles due to the circulation of the disease worldwide.
Dr. Alexandre said that this is one of the reasons the region must respond quickly, especially during observances such as Vaccination Week, to prevent the re-establishment endemic transmissions.
In agreement was Vice Consul of Brazil to Guyana, Lisa Marie Dos Reis, who encouraged greater efforts to protect against measles as the neighbouring districts continue to strengthen ties.
During the event, presentations of song, poetry, drama and other demonstrations came from students of Moco-Moco Nursery and Primary Schools, Arapaima Primary and Quarrie Primary Schools.
At the end of the ceremony, Lawrence distributed baby hampers to several mothers within the region while long-standing community health worker for 28 years, Rita Torquarto, was honoured for her dedicated service.