…PM Nagamootoo tells Health Expo launch
Health Expo 2018 was on Wednesday launched amid calls for citizens to lead healthier lives.
THEMED "Reaching for a better life with good health," the Expo which will run from May 30 to June 2, 2018, at the Sophia Exhibition Centre, and is geared at strengthening health awareness here through seminars, workshops, continued medical education, as well as a career day fair, to name a few activities planned.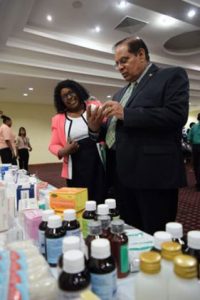 Prime Minister Moses Nagamootoo, who is performing the functions of President, called on citizens to pay keen attention to the choices they make as those choices can affect their health. He used his own recent heart surgery as an example of why persons need to pay attention to their health. Mr Nagamootoo stressed that the health expo is intended to focus nationally on how citizens can contribute to bringing about wellness in society. He said a nation is blessed when it has healthy and productive citizens and reminded the audience that the Health Expo will promote awareness about health conditions, diseases and viruses, as well as explain the extent of services available through the public health system.
He said too that unhealthy habits can lead to a "slow demise", as he called on companies to be responsible and not hoodwink their customers. Additionally, Nagamootoo said despite the challenges facing the health sector, it is imperative for the government to uphold Article 24 of the Constitution of Guyana, which speaks to the right to free medical attention, social care, old age and disability. He said over the years billions of dollars have been pumped into the healthcare system, which he said is indicative of government's commitment to bettering the sector. "You have choices to make, make them while young," he said, while opining that eating healthy is critical to sustaining a healthy lifestyle and long life. "Pay attention to your health; we can all live a better life with good health," Nagamootoo concluded.
Subject Minister Volda Lawrence in opening remarks said the country's first health exposition will also serve to develop synergies between the Ministry of Public Health (MoPH), health care providers and the public. She noted that over the years many persons have appeared at public health facilities after expending large sums at private institutions, because they were unaware that the same services are provided by the MoPH free of cost.
"Too many persons are not au fait with the services provided by the MoPH," she said, while noting that the Expo will ensure that the public becomes acquainted with the services that are provided across the board in primary as well as tertiary health care institutions. Lawrence told the gathering of mainly health care providers, and schoolchildren that the time has come for "family oriented health." She noted her ministry's 2020 vision, which speaks to health for all and stressed the need for the public to be oriented towards preventative care.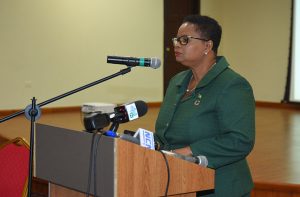 "We want to ensure we stop the 'I' and the 'me' when it comes to our health…and start thinking about family-oriented health; that is, we begin to ensure that persons within our households are accessing our health facilities" said the Minister of Public Health, as she stressed that Guyanese can become more health conscious. "We want to remind everyone that they are living in a country that is blessed with an abundance of healthy foods," the minister said, noting that Guyanese can live long and healthy lives should they utilise fresh, organic produce as opposed to canned preservatives.
It is expected that partnerships will be forged with stakeholders in the heath sector, so that there can exist a much healthier nation in the future.
"Health Expo is also for the interaction of so many from the outside with those within the Ministry of Public Health. We believe that it will give us a good idea, in terms of some of the thoughts of the citizens and the things they'd like us to improve on," Lawrence stated. The Public Health Minister said too that through the Health Expo, it is expected that opportunities will arise for the ministry and its partners to work collectively to improve the health system.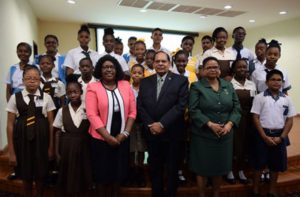 Permanent Secretary MoPH, Colette Adams, who echoed the sentiments of Minister Lawrence disclosed that her ministry is moving to create an electronic medical information system so that patients' information can be readily retrieved and patient management and care enhanced. "Health Expo will provide an opportunity to introduce this system to the public, using modern information technology," she said, while noting that the forum would also facilitate launching of the food- based guidelines so that citizens of Guyana can be aware of health consumption to achieve healthy lifestyles. MoPH Adams said the ministry is committed to fulfilling its mandate as outlined in its vision 2020, which is to advance the well-being of all the people of Guyana, reduce inequalities and offer quality health services. She noted that the main objective of the Health Expo is to strengthen awareness that the MoPH is the primary health care provider.
The permanent secretary said despite the challenges and constraints, the MoPH is optimistic the challenges will be overcome in the near future and Guyana would continue to stand as a healthy nation. "The objective of this fair is to strengthen the awareness and communication among citizens, to sensitise the public about the services provided by the ministry and to provide a platform whereby local and foreign manufacturers, distributors and suppliers can interact and discuss current knowledge and best practices in the health environment," she stated.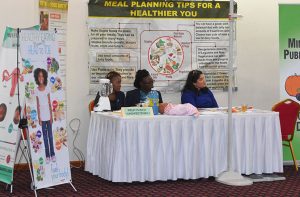 Similarly, Minister within the Ministry of Public Health, Dr Karen Cummings, in delivering the vote of thanks, said through collaboration Guyana is working tirelessly to achieve the Sustainable Development Goals (SDGs), in particular Goal 3. SDG 3 calls on nations to "ensure healthy lives and promote well-being for all at all ages." "This requires joint action through health literacy," Dr Cummings added.