–to testify at Lindo Creek CoI
OPPOSITION Leader Bharrat Jagdeo, who served as President when the Lindo Creek Massacre occurred in June 2008, is being written to with a view to having him appear before the Commission of Inquiry (CoI) into the murders.
So, too, is former Minister of Home Affairs, Clement Rohee, the Commission's attorney, Patrice Henry told reporters on Friday.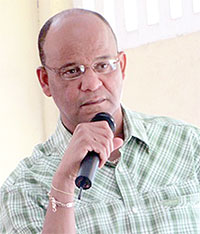 Former Commissioner of Police Seelall Persuad, who was then Crime Chief, is expected to appear before the Commission on Tuesday.
President David Granger had said that the CoI into the Lindo Creek Massacre is pivotal to the unravelling of the tapestry of criminality that engulfed the country between 2000 and 2008.
He said that while there were approximately eight massacres during the period of what he calls "The Troubles", the investigation into the Lindo Creek Massacre is critical in exposing the intellectual authors behind the criminal network that wreaked havoc under the Bharrat Jagdeo Administration.
"We feel that the way in which the investigation was handled indicated that there was a high level of collusion by the government of the day," President Granger had said.
"We feel that this will be a pivotal investigation, which will unravel the criminal network which was behind the killings in what is now called the Jagdeo era during the troubles," he'd added.
He said the report of the Donald Trotman- led COI will lead to other inquiries, including into the murder of former Minister of Agriculture, Satyadeow Sawh.
Back in 2003-2006, convicted drug trafficker, Shaheed Roger Khan had set up a criminal network here, which included active policemen and a number of former ranks, ostensibly to go after criminals, but at the same time to protect his narco-trafficking interests. He was nabbed in neighbouring Suriname in 2006 while fleeing local police, and was later handed over to U.S. authorities.
Although the PPP government had sought to distance itself from Khan, the drug trafficker had stated publicly in an advertisement in local newspapers that he was fighting crime on behalf of the Jagdeo-led government.
Khan had also implicated former Minister of Health Dr. Leslie Ramsammy in his escapades, and documents bearing the then minister's signature authorising the purchase of a sophisticated wire-tapping device were produced in U.S. courts during Khan's trial.
Owner of the mining camp at Lindo Creek, Leonard Arokium, had accused the Joint Services of killing the eight miners. He had said that at the time, the servicemen might have mistaken the men for members of the notorious Rondell 'Fine-Man' Rawlins gang that was raising Cain in the country back then.