TOMORROW, 15 individuals will go head-to-head in the semi-finals of the 2018 Carib Soca Monarch moving one step closer to winning the grand total of $1.5 million.
With the air thick with excitement, The Buzz met up with five of these competitors, both experienced and rookies, at a recent practice session at the Malteenoes Sports Club.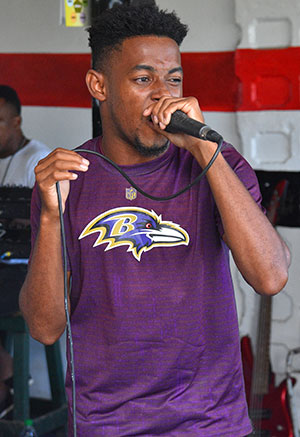 Performing 'Ah Playing Mas', which is all about Mashramani and promises to be of high energy, is Samantha Grant.
Although she has been singing for about 20 years, Grant told The Buzz that it is a first time for her participating in a competition.
The young woman says she will maintain a positive mindset despite the outcome and described the other newcomers, like herself, as bold with a lot of 'attitude' and 'sass' which adds to the excitement of the competition.
"As a professional singer, I'm always a little scared until I hold the mic," she chuckled. "We have a lot of newcomers, including myself. Of course, our aim is for one thing, but so far everybody's doing their best and even though I'm in the competition I would still encourage people to still put forward their best."
Meanwhile, well-known Melissa "Vanilla" Roberts, will be performing her piece, 'We Run Things' and she says that even with a significant number of newcomers, the title is available for anyone to snatch.
"What I love about Soca Monarch is that it creates the opportunity for persons to excel whether you are a newcomer or a veteran, the stage has been created for you to shine," Vanilla said, adding that she was enjoying performance preparations.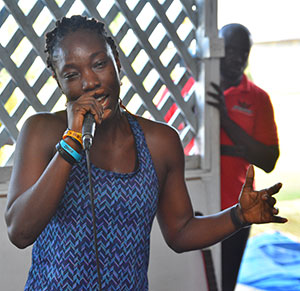 "I love the thrills of preparing for a competition! Sleepless nights, rehearsals, planning, laughing, the mishaps and all, so I would say preparations are going well," she said. "Once Guyanese are exposed to my music they always connect to it, whether it's through the instrumental, the lyrics or my personality, Guyanese people generally connect to me in a loving way."
A rookie with a lot of potential participating this year is Colwin "Lil Colwin" Blair who said that preparations for Saturday evening are taking "a lot of hard work [and] a lot of energy".
The soca competitor hailing from the mining town of Linden says the idea behind his piece 'Leave Me Alone' stems from a scenario where someone does not want to leave or be called away from a party when the enjoyment sets in.
Blair says that although this is first time in a Soca Monarch competition, he is not intimidated by the experienced performers and receives a wonderful amount of support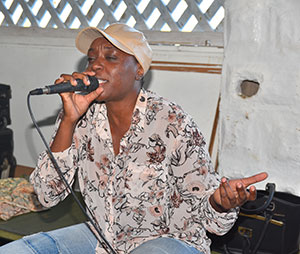 from his home town.
"Linden people support everyone from Linden. They support you 100 percent [whether you're] new, old, middle class, it don't matter, once you're from Linden they support," he said.
At the same time, a 'veteran' to the stage and bringing his 'A Game' is Roger "Young Bill Rogers" Hinds with his soca song, 'De Money Power Dance' which he says is about the sheer happiness and joy of having money.
He, too, has observed the rookies in the contest and said that he was happy to see that the culture of Guyanese and Caribbean music was continuing. "I'm glad for the newcomers; it's good that they're having new blood into the competition. It shows that it has its links and that it keeps going on all the time whether it's a calypso, a chutney or a soca, new blood is coming in," he remarked.
However, the well-known performer says that experience also plays an important role and his will help him to some extent in the competition.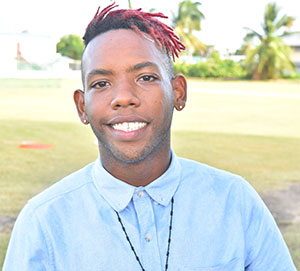 Hinds, whose first performance was a calypso competition in 1992, says that many Guyanese artistes aren't being marketed well enough but the present competition proves that there is much local talent which needs to be properly promoted.
"We have quality music. We've been producing good music for the past 10 years or more and I think that Guyanese music has been going places, we just need to market ourselves so that we can be known to the people, the youths that are coming up and the Guyanese population," he said.
Meanwhile, feeling very confident is Jonathan "Lil Red" King who will be performing 'Water, Paint and Powder'.
King, who is not a first-time performer, told The Buzz that the idea behind his song was to incorporate body painting, the Indo-Guyanese festival of Phagwah and Mashramani together in one song to unite cultures.
Being able to assess his past experience while planning for his next is one of the many reasons the young man feels that he can most definitely win the title.
"It's quite a confident feeling having this experience, being able to watch all of my previous years and to be able to see all my weak points. So, going in this time, I'm pretty confident," King expressed, leaving a final encouragement:
"Mashramani over the years, I think, has been losing flavour, but the people are the only thing that can keep the flavour. So if the people of the nation really come out and support our true Guyanese culture that's the way we can keep the fire burning."
The 2018 Carib Soca Monarch Semi-Final Competition will be hosted at the Linden-Georgetown Municipal Bus Park.